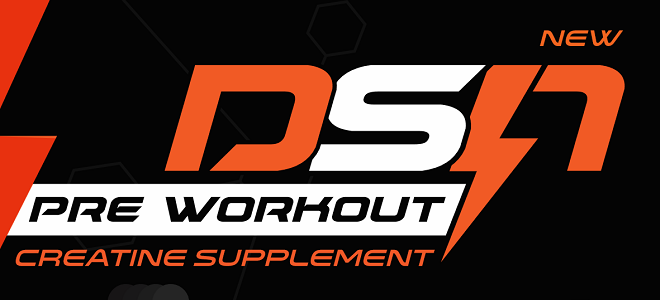 DSN Pre Workout Review
DSN Pre Workout is a creatine-based muscle supplement distributed by Dyna Storm Nutrition. The company website claims that DSN Pre Workout promotes lean muscle development and athletic endurance, while simultaneously increasing power and energy levels.
How does DSN Pre Workout stack up?
On our quest to learn about Dyna Storm Nutrition, we discovered that they currently have two sponsored athletes, including champion competition bodybuilder, Clay Upson (pictured below), who took 1st place in the 2016 ABBA Winter Open Bodybuilding Competition, and 8-time world record powerlifting champion, Brandon Tovey.
Both athletes describe their experience with DSN Pre Workout as positive, stating that the supplement helps them maintain their winning physiques and strength.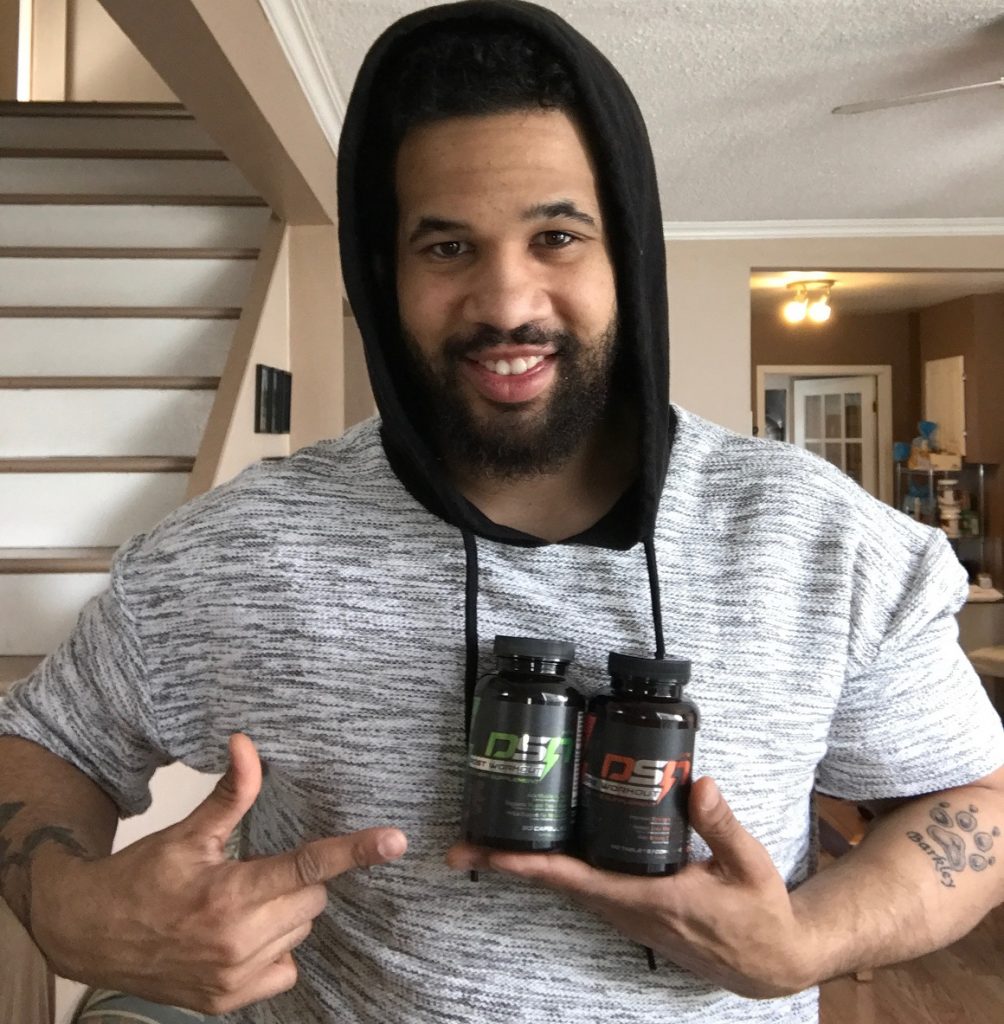 DSN Pre Workout Ingredients
DSN Pre Workout includes a blend of vitamins, minerals, and amino acids, which reportedly work together to deliver results, especially when coupled with DSN Post Workout supplements! Below is a breakdown of each ingredient and how it works to promote energy, endurance, or muscle-building in the DSN Pre Workout formula.
Creatine Monohydrate
Creatine can be found naturally in foods like meat and fish and is also produced by the human liver, pancreas, and kidneys. After an initial loading phase, doses of between 2-5g can increase muscle mass and size when paired with a regular resistance training program (Health Canada 2011).
It is one of the most popular and well-researched muscle-building supplements on the market (Buford et al 2007).
Caffeine
Caffeine is a stimulant, found in the seeds and leaves of several plants, most popularly coffee beans, cocoa beans, and tea leaves. Several reports suggest that caffeine can increase endurance and energy levels during physical activity, also promoting greater cognitive functionality (Sokmen et al 2008).
L-Arginine
L-arginine is an amino acid that has been linked to increased athletic performance, and healthy circulation. It helps the body build protein, and also works as a vasodilator (Nagaya et al 2001) – find out your protein needs with this macro calculator.
Vitamin C
This vitamin is found naturally in several fruits and vegetables and is commonly used in pre-workout supplements as it has been seen to help decrease recovery time and reduce the muscle soreness felt post-workout (Bryer & Goldfarb 2006).
Vitamin D
Vitamin D can be sourced naturally from foods like egg yolks, fish, and liver. It has been linked to improved strength, balance, (Muir & Montero-Odasso 2011), and testosterone production in men (Pitz et al 2011).
Its relation to testosterone makes it a valuable contribution to many supplements for men and is even included in other Dyna Storm Nutrition products, such as their DSN Code Black Testo Booster.
Thiamine
Thiamine, also known as vitamin B1, is found in protein-rich foods, such as beef, nuts, and legumes. This vitamin assists the body in breaking down fats and proteins, which can then be transformed into energy (Ehrilch 2015). Thiamine is usually used in pre-workout supplements as an energy and immune booster.
Niacin
Another B vitamin, Niacin (Vitamin B3), also helps increase energy levels by metabolizing food into energy the body can use. It is associated with increased circulation, nervous system health, skin health, and vision (Ehrilch 2015).
Vitamin B6
Vitamin B6 is another vitamin found in protein-rich foods, such as salmon, chicken, and beans. It helps the body to break down fat and protein as it is consumed, and transform them into energy. This promotes the creation of lean muscle tissue, as well as naturally increasing energy levels (Ehlrich 2015).
Folic Acid
Vitamin B9, or folic acid, works similarly to the above-mentioned B-vitamins. It is found in leafy greens, such as kale, as well as beans, seafood, and eggs. Folic acid is an important vitamin for rapid growth (Ehrilch 2015).
Vitamin B12
Known also as cyanocobalamin or cobalamin, vitamin B12 is essential for DNA production. It also helps the body turn food into fuel and promotes proper iron absorption and functionality (Ehrilch 2015). Vitamin B12 is found in fish, dairy, and meat.
Calcium
Calcium is a mineral found in dairy, almonds, bok choy, cabbage, and kelp, among other foods. It is essential to the health of bones, teeth, muscles, and the heart (Ehrilch 2015).
Cayenne
Classified as a fruit, cayenne is a chili pepper that derives heat from the naturally occurring chemical capsaicin. Capsaicin in cayenne pepper has been associated with fat reduction, lean muscle building, and increased energy (Whiting et al 2012).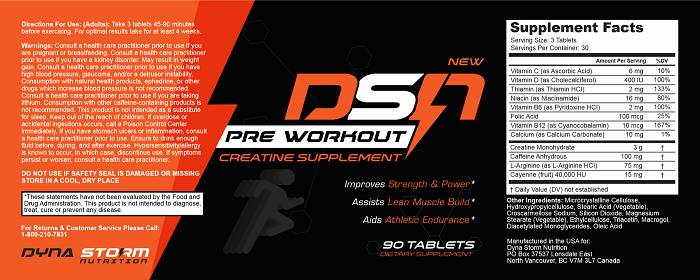 Possible Side Effects of DSN Pre Workout
The Dyna Storm Nutrition website explains that while each batch is tested for quality and contains no banned substances, some individuals may experience adverse reactions to individual ingredients. When taken in large doses, creatine can sometimes cause stomach cramping and diarrhea, as well as some initial weight gain in the loading phase (Ostojic & Ahmetovic 2008).
Those sensitive to niacin may also experience a tingling, burning, and itching sensation known as a niacin flush, which is normally mild and usually goes away (Health Canada 2009). Caffeine is also commonly known to cause jitters and anxiety when taken in large doses, or if you are caffeine-sensitive (Health Canada 2008).
As a popular product, there are many DSN Pre workout reviews and side effects reported are very uncommon. It's always best practice to read the full list of ingredients for any known allergies before beginning a supplementation program.
Wrap-Up
DSN Pre Workout claims to boost energy, build muscle, and increase physical endurance and performance, and the science supports the use of Pre Workout's main ingredient – creatine – in relation to these claims.
Creatine is one of the most well-researched muscle builders out there and has been seen time and again to help build muscle when paired with regular resistance training (Buford et al 2007). Supporting ingredients like vitamins, minerals, and amino acids, are all essential for good health and protein synthesis.
With a boost of caffeine for focus and endurance, DSN Pre Workout will likely help give you an extra edge at the gym to help you meet your goals.
Be sure to check out DSN Post Workout as well to help you get the best results!
References
Bryer, S. C. & Goldfarb, A. H. (2006) Effect of high dose vitamin C supplementation on muscle soreness, damage, function, and oxidative stress to eccentric exercise. International Journal of Sport Nutrition and Exercise Metabolism. 16(3), 270-280. Retrieved on January 25, 2018 from http://journals.humankinetics.com/doi/abs/10.1123/ijsnem.16.3.270
Muir, S. W. & Montero-Odasso, M. (2011) Effect of vitamin D supplementation on muscle strength, gait, and balance in older adults: A systematic review and meta-analysis. Journal of the American Geriatrics Society. 59(12), 2291-2300. DOI: 1111/j.1532-5415.2011.03733.x
Pitz, S., Frisch, S., Koertke, H., Kuhn, J., Dreier, J., Obermayer-Pietsch, B., Wehr, E. & Zittermann, A. (2011) Effects of vitamin d supplementation on testosterone levels in men. Horm/ Metab. Res. 43(3), 223-225. DOI: 10.1055/s-0030-1269854
Ehrlich, S. (2015) Vitamin b1 (thiamine) Unviersity of Maryland Medical Center. Retrieved on January 25, 2018 from http://www.umms.org
Ehrlich, S. (2015) Vitamin b3 (niacin). Unviersity of Maryland Medical Center. Retrieved on January 25, 2018 from http://www.umms.org
Ehrlich, S. (2015) Vitamin b6 (pyridoxine). Unviersity of Maryland Medical Center. Retrieved on January 25, 2018 from http://www.umms.org
Ehrlich, S. (2015) Vitamin b9 (folic acid) Unviersity of Maryland Medical Center. Retrieved on January 25, 2018 from http://www.umms.org
Ehrlich, S. (2015) Vitamin b12 (cobalamin) Unviersity of Maryland Medical Center. Retrieved on January 25, 2018 from http://www.umms.org
Ehrlich, S. (2016) Calcium. University of Maryland Medical Center. Retrieved on January 25, 2018
Buford, T.W., Kreider, R.B., Stout, J.R., et al. (2007). International Society of Sports Nutrition position stand: creatine supplementation and exercise. Journal of the International Society of Sports Nutrition. 4(1) 6. Retrieved January 25, 2018 from https://jissn.biomedcentral.com/articles/10.1186/1550-2783-4-6
Sokmen, B., Armstrong, L. E., Kraemer, W. J., Casa, D. J., Dias, J. C., Judelson, D. A. & Maresh, C. M. (2008) Caffeine use in sports: Considerations for the athlete. The Journal of Strength and Conditioning Research. 22(3), 978-986. DOI: 1519/JSC.0b013e3181660cec
Nagaya, N., Uematsu, M, Oya, H., Sato, N., Sakamaki, F., Kyotani, S., … & Miyatake, K. (2001) Short term oral administration of l-arginine improves hemodynamics and exercise capacity in patients with precapillary pulmonary hypertension. American Journal of Respiratory and Critical Care Medicine. 163(4), DOI: 1164/ajrccm.163.4.2007116
Whiting, S., Derbyshire, E. & Tiwari, B. K. (2012) Capsaicinoids and capsinoids. A potential role for weight management? A systematic review of the evidence. DOI: 10.1016/j.appet.2012.05.015
Ostojic, S. M., & Ahmetovic, Z. (2008). Gastrointestinal distress after creatine supplementation in athletes: are side effects dose dependent?. Research in Sports Medicine, 16(1), 15-22. Retrieved January 26, 2018 from http://www.tandfonline.com/doi/abs/10.1080/15438620701693280
(2012). Niacin. Health Canada. Retrieved on January 25, 2018
(2008). Caffeine. Health Canada. Retrieved on January 25, 2018