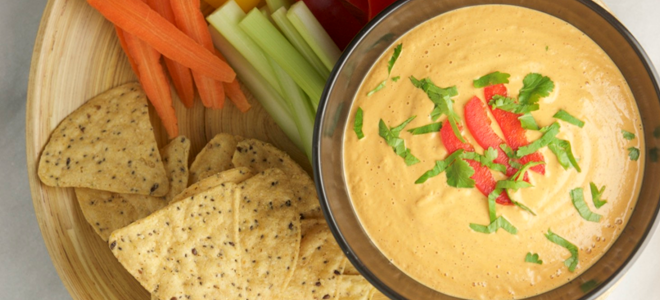 Nacho Cheese Sauce Recipe
Who doesn't love a great, gooey dip? It's the perfect snacking sensation that will leave you satisfied while not busting your belt! I've come up with a very satisfying alternative to store-bought gooey cheese sauce without even touching a dairy product – a satisfying nacho cheese sauce! That's a real plus for those of you who just don't get along with milk and cheese very well. Makes 3 cups.
Nacho Cheese Sauce Ingredients
1 cup water
3 tablespoons lemon juice
⅓ cup roasted red peppers, roughly chopped
¾ cup almonds, soaked 2 hours, drained
⅓ cup nutritional yeast
1 teaspoon chili powder
½ teaspoon onion powder
¼ teaspoon garlic powder
½ teaspoon sea salt
Directions
Place all ingredients in a high-speed blender and blend until smooth.
Enjoy with chips or vegetables.
Looking for a certain recipe? Special meal? Anything else you can think of?
Let us know and we will make it happen! We love giving you exactly what you want so drop us a line today!
Give this recipe a try and let us know below.

Latest posts by Jennifer Cohen Katz
(see all)