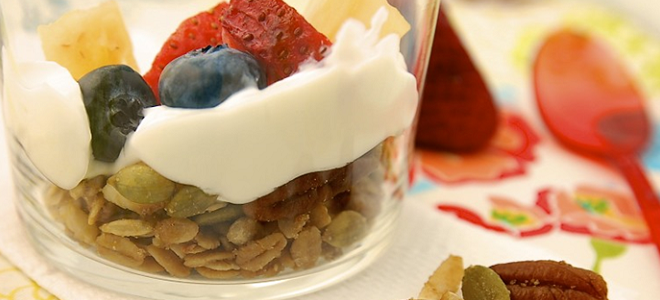 Granola Recipe
This vegan recipe is filled with nutrient-dense nuts and seeds. Enjoy it over Greek yogurt, sprinkled on chopped peaches, or straight up as a snack in itself. This makes for a perfect on-the-go snack to help you re-energize and fill up for a productive day ahead!
Granola Ingredients
3 cups old-fashioned rolled oats
1 cup raw pumpkin seeds
1 cup raw sunflower seeds
1 cup unsweetened coconut chips
1 ¼ cup raw pecan halves, coarsely chopped
¾ cup pure maple syrup
½ cup coconut oil, melted
½ cup packed light brown sugar
Directions
Preheat oven to 300℉.
Place oats, pumpkin seeds, sunflower seeds, coconut, pecans, syrup, coconut oil, and sugar in a large bowl and mix together. Arrange granola in an even layer on a rimmed baking sheet. Bake, stirring every 10-15 minutes, until granola is toasted, about 35 – 45 minutes.
Remove granola from the oven and let cool. After cooling, it can be stored in an airtight container for up to 1 month.
Looking for a certain recipe? Special meal? Anything else you can think of?
Let us know and we will make it happen! We love giving you exactly what you want so drop us a line today!
Give this recipe a try and let us know below.

Latest posts by Jennifer Cohen Katz
(see all)