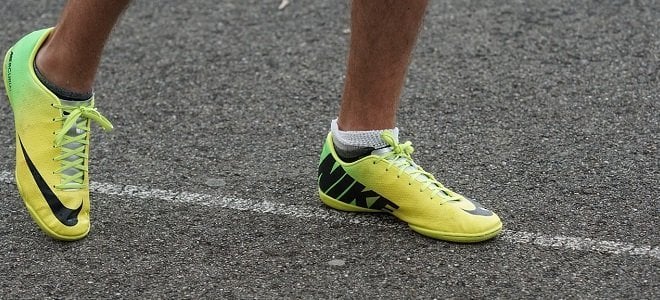 Runners Advice – Your Valuable Feet
I know there are a ton of runners out there that are always looking for a way to either improve their form or just their next mile time. Check out this expert runner's advice on how to look after your feet. Runner's advice at its finest!

Runners Advice: Get to running
Runners use their feet more than most.
When you are out pounding the pavements, muscles all over your body get a good work out but it is your feet that take a lot of the strain.
If you don't look after them properly then you could sustain an injury that causes discomfort or even interrupts your training schedule.
Thankfully, there are lots of quick and easy things you can do to ensure your feet stay strong and healthy. Looking after your feet as a runner means wearing the right sneakers (with good support), resting when necessary, and treating dry cracked heels before and after exercising.
Get Good Support from Your Sneakers
The most important thing any runner can do (not just for their feet, but for their overall performance) is to make sure they have adequate support from their footwear. It's easy to get complacent with this but make sure you have the right size and fit with your sneakers is vital to your success.
If you have never had your feet measured professionally then get it done right away. You may even find that you need a different-sized shoe or runner depending on where you buy it.
Always check the fit in the shop before you buy to avoid getting the wrong shoes.
You should also try on a broad range of different sneakers to see how they feel and which you prefer. Look for something not too wide and not too tight.
If runners are over-wide then you'll feel your feet slipping around. If they're too tight then parts of your foot could rub against the inside of your sneaker and even cause painful blisters, sores, or dry cracked heels.
Always walk around the shop in any sneakers you try on to get an idea of what they'll feel like when running and check how much arch support they provide.
Treat Dry Cracked Heels and Improve Your Foot Condition
Once you have proper shoes, it is important to check the condition of your feet. Looking after your feet may not be an immediate priority but it should be.
A good regime here can reduce the risk of damage or discomfort and help you stay comfortable and happy when running.
The skin on your feet should be well moisturized to stay in good condition and to avoid common complaints such as dry cracked heels. You can use a much heavier moisturizer on your feet than on your hands or face so find one specifically designed for this part of the body and apply liberally.
Covering your feet in socks after moisturizing for at least 30 minutes will help lock the moisture in.
The other big cause of damage to runners' feet is medical problems such as athlete's foot. This condition can affect anyone but is easily treated with creams. You can help prevent it from occurring by always drying your feet properly after washing and wearing flip-flops or shoes in communal showers.
Remember to Stretch Your Feet
Another essential part of caring for your feet as a runner involves stretching. Stretching your ankles and feet on a regular basis helps you to keep the muscles supple and relaxed and can even help to prevent feelings of discomfort or strain.
A few basic stretches you can try are listed below but you may want to consult a fitness instructor to discover other options. Alternatively, there are plenty of great suggestions and tutorials available online.
Toes: Place a handful of small items and a plastic cup on the floor. Stand upright and use your toes to pick up the items one at a time and put them in the cup. Complete twice for each foot.
Ankles: Stand upright and lift one foot from the ground by a few inches. Draw ten large circles with your toes, first in a clockwise direction and then counter-clockwise. Swap feet and repeat.
Feet: Sit barefoot and cross your right leg so that your right ankle rests on your left thigh. Hold your toes in your hand and bend them gently towards your shin ten times. Swap feet and repeat.
When stretching your feet it is important to remember your safety at all times. Always choose a stable surface on which to stand and remove any potential dangers or hazards from the area.
Be careful not to overstretch your muscles either and stop stretching if you experience any form of pain – it is normal to feel a little tension in your muscles when stretching but it should not be painful.
Wrap-Up
As a runner, your feet are your most important tool so they are worth spending some time on.
Get good support from your footwear, moisturize regularly to care for your skin and treat dry crack heels, and stretch your feet and ankles to keep this vital body part working at its best.
Latest posts by John Brasington
(see all)
Disclosure: In the spirit of full disclosure, DIYactive.com may be compensated in exchange for featured placement of certain reviews or your clicking on links posted on this website.