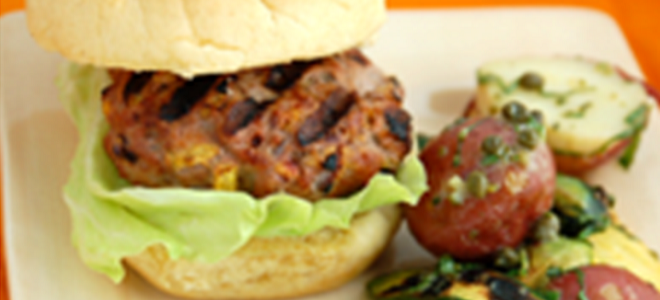 Turkey Burgers Recipe
Peaches are in season now and are great sources of both vitamin A and C. Although it's unusual to find bites of peach in your burger, turkey is a natural paired with fruit and the combination works surprisingly well! This simple, delicious recipe makes 8 turkey burgers!
Turkey Burgers Ingredients
2 pounds lean ground turkey
¾ cup fresh peaches, diced
¼ cup red onion, diced
¼ teaspoon cayenne pepper
½ teaspoon salt
1 tablespoon canola oil
8 leaves romaine lettuce
8 whole-grain hamburger buns
Turkey Burgers Directions
Preheat grill. Place turkey, peaches, onion, cayenne pepper, and salt in a large bowl. Gently combine; this is best done with your hands. Form into 8 flat turkey burger patties.
Brush turkey burger patties with oil and place on grill. Cook 4 to 5 minutes per side until no longer pink inside. Serve with lettuce on hamburger rolls.
Looking for a certain recipe? Special meal? Anything else you can think of?
Let us know and we will make it happen! We love giving you exactly what you want so drop us a line today!
Give this recipe a try and let us know below.

Latest posts by Jennifer Cohen Katz
(see all)