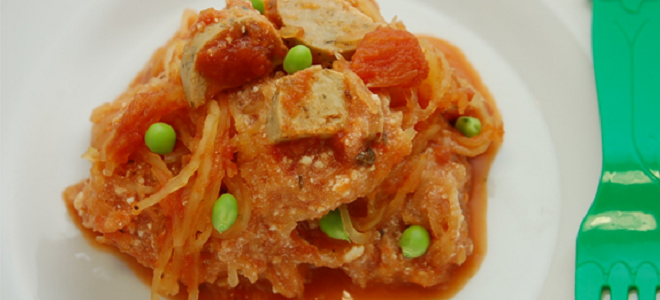 Summer Squash Spaghetti Recipe
We eat so many grains in our (S)tandard (A)merican (D)iet. Spaghetti summer squash is a low carb stand-in for pasta and also contains folate for heart health. Makes 4 servings of summer squash spaghetti!
Summer Squash Ingredients
3 pounds spaghetti squash, cut in half
16 ounces pasta sauce
1½ cups frozen peas
12 ounces vegetarian italian sausage, chopped
1 cup part skim ricotta cheese
½ teaspoon salt
¼ teaspoon pepper
½ cup parmesan cheese, grated
Directions
Place squash halves in a microwaveable dish filled with ½ cup water. Cook on HIGH for 15 minutes.
Place pasta sauce, peas, and sausage in a large pan and heat for 7 minutes. After squash cools 2 minutes, scrape strands out of shell using a fork. Add to the pan and combine with the sauce mixture. Simmer for 8 minutes. Turn off heat and stir in the ricotta cheese, salt, and pepper. Top the summer squash spaghetti with parmesan cheese.
Looking for a certain recipe? Special meal? Anything else you can think of?
Let us know and we will make it happen! We love giving you exactly what you want so drop us a line today!
Give this recipe a try and let us know below.

Latest posts by Jennifer Cohen Katz
(see all)