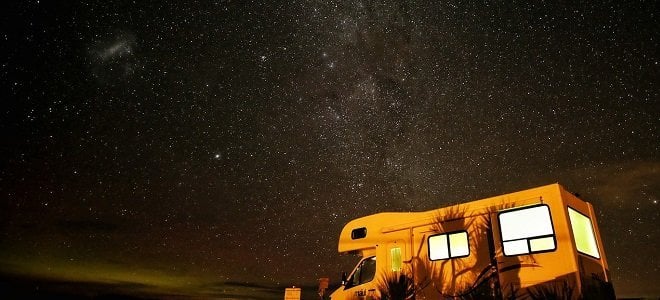 On-The-Go Meal Planning
Traveling in an RV is one of the most popular ways to vacation, and some people love the idea so much they even choose to live with their family in an RV. In the past, if you wanted to rent an RV for a family trip you usually had to go through a dealership, but now with peer-to-peer rental sites like Outdoorsy, it's easier than ever before to plan your vacation on the open road.
Meal planning tips…
So there's just one major question for a lot of people once they've made this decision, and that's how to plan their meals…
You have to think about when you'll eat out versus when you'll cook, how you'll cook, what your kitchen facilities will be like, and how much storage space you have.
The following are some top meal planning tips for an RV trip.
1. Get the Essentials Before You Go
Depending on how long your RV trip is going to be, you're likely going to have to stop for food and supplies at least once on the road, and maybe more, but try to buy the essentials before you go.
This way, you'll have the staples, and you can likely save money because you'll have more shopping options when you're purchasing at home.
Some of the essentials can include breakfast foods like cereal and oatmeal, canned tuna, peanut butter, tomato sauce, pasta, etc.
Of course, the majority of the staples you stock up on should be shelf-stable, particularly if you're going to be gone for a few weeks.
2. Plan Daily Menus
There are going to be times when you're on your trip that getting to a grocery store might be a challenge, so you want to plan ahead as much as possible to make sure you get the items you need before you're stuck in a remote area.
Before you ever leave, plan all the meals for each day and put them on a calendar.
3. One-Dish Meals
If at all possible, try to choose one-dish meals. You don't want to be in an RV creating a meal that requires you to use every dish you have. You can consider simple meals like spaghetti or casseroles, or maybe make-ahead items that you can stick in the fridge that morning, and pop into the oven in the evening when everyone is done with their activities for the day.
Also when you're meal planning for an RV trip, make sure you try to choose options with as few ingredients as possible, because you will be limited on storage space.
4. Bring Your Favorite Spices and Seasonings
Having the right spices and seasonings that your family likes can make even an incredibly simple meal seem like something special. Stock up on your favorite flavorings before you go and you can make fish or chicken breasts seem like different recipes, or veggies more exciting.
If you're renting an RV, make sure you check with the owner to see what items they stock for you and what you need to bring.
5. Cooking Outdoors
As a final note on meal planning tips, if you're going to be primarily cooking outdoors or you won't have the option to cook in the kitchen in an RV, there are a few different things to keep in mind.
One of the best ways to meal prep for cooking outdoors or camping is creating your meals ahead of time, and wrapping them in tinfoil packets.
These packets can be cooked over a campfire relatively easily. Some great options include campfire burritos, which you can prep before you leave, chili packets, and you can even prepare fresh seafood like salmon this way.
This will give you options to make more food ahead before your trip, and more flexibility in how it's prepared. It can also be fun to make a campfire and enjoy dinner around it.
Wrap-Up
Whether you are taking a road trip, going camping, heading out on an RV trip…etc. these on-the-go meal prep tips are sure to please everyone in the family!
Disclosure: In the spirit of full disclosure, DIYactive.com may be compensated in exchange for featured placement of certain reviews or your clicking on links posted on this website.