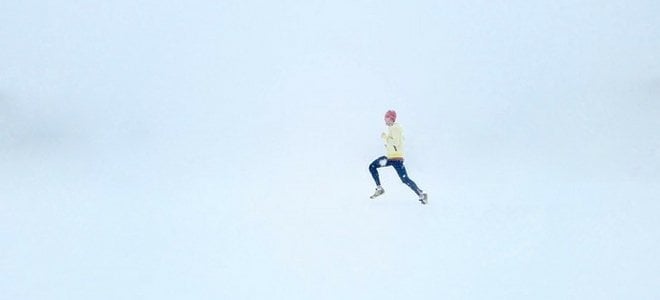 Running in Winter Can Be Tricky
Just because temperatures have taken a nosedive doesn't mean the frequency of your workouts has to, even if you're not a member of a gym. You can continue to run safely outside even during the chilly winter months. However, you do have to make sure that you're prepared before you lace up your running shoes for a quick three-miler.
Running in the winter weather requires a better understanding of the way your body works and the anatomical logistics of running in general. So, before you bundle up and head outside, follow these tips for staying safe and avoiding injuries while you run this winter.
1. Check the Forecast
When you decide to go for a run in the chilly weather, it's important to first know just how chilly it is. Keep in mind that your body generates heat while you run, so the temperature of the air may differ from your body's running temperature.
Add 10 degrees to the temperature in order to calculate how warm it will feel to you. This should help you decide whether or not it's safe to head outside.
Any time the weather drops below the freezing point, be cautious.
If the temperature drops below 0 degrees Fahrenheit, head to the gym or skip the workout for that day — especially if the wind chill has the air feeling even colder. No runner's high is worth frostbite.
2. Grab the Proper Gear
Calculating your internal 'runner's temperature' also helps you to figure out what to wear for your cold-weather run. There are a few staples that you should have in your wardrobe if you intend to hit the pavement in the snowy season.
First, you're going to need a pair of running pants (or tights) and a long-sleeve shirt that wicks moisture away from your body.
Next, you'll need to find workout gloves and a cozy headband (complete with earmuffs) or a hat. Add a windbreaker, wool running socks, and the right type of running shoes as the final touch.
3. Don't Skip the Warm-Up
A warm-up is exactly what it sounds like: a chance for your muscles to get warm and ready for your run. When you run in the cold weather, it's easier for your muscles to stiffen and tighten, which could result in injury.
That's why it's so important to stay limber. The best way to do this is by stretching before your run.
Flow-through a few yoga poses or perform static stretches that lengthen the hamstrings and calf muscles in order to get your body ready for running.
4. Or the Cool-Down
It's just as important to unwind after a run as it is to warm up, especially in the cold winter months. Perform dynamic stretches after you finish your workout, preferably indoors where your muscles can cool down slowly.
You might also consider treating your hammies and glutes to a bit of pampering after the run, like soaking in a warm bath with Epsom salts. Don't forget about your feet, either. Stretch out those toes and arches to avoid injuring your feet.
5. Practice Proper Form
Research shows that one of the most common sources of running injuries is the hips. If you don't use your hips to hold your torso upright and keep it stable, you might find that this lack of stability hampers your running form. Worse, it could lead to injury.
Take advantage of the winter season and use it as a time to pay close attention to your form and perfect it. Choose some exercises aimed at strengthening the trunk and hips, and perform them before or after a winter run, either indoors or out.
6. Know Vulnerable Areas
For the majority of people, the hips are the issue when it comes to running, as mentioned before. However, that doesn't mean that you necessarily fall into that category. Each runner is different and each body is different, so you might have a different spot of weakness as a runner.
In the winter when it's easy for muscles to lock up and injuries to occur, it's more important than ever to know your own body.
So if you know your calves are going to ache after a long run, spend some extra time stretching them out before you go. If you find that your ankles are prone to injury, make sure that you wear proper shoes and land on your feet evenly, pointing straightforward when you run.
Rotating to one side or the other could result in a twisted ankle or worse. Whatever your source of weakness, make a mental note and prepare yourself as well as you can to stay safe and healthy during your wintertime running routine.
7. Don't Wait to Call the Doc
Even if you follow all of these tips and take every precaution possible, there's still a chance you'll hurt yourself when you run on a regular basis. Every runner has been there. Don't beat yourself up, just take good care of yourself.
When you're experiencing pain in your feet or ankles that just won't go away, don't try to push through it. This may be a sign to see a podiatrist.
A podiatry doctor can help to diagnose and treat a variety of foot and ankle problems. Your doctor will know exactly what to do to prevent any further injury and expertly treat existing issues.
Wrap-Up
Now that you know how to keep yourself safe during the wintry running season, you're ready to lace up your sneakers and head outside. If you heed these tips and don't hesitate to call your doctor when necessary, you shouldn't have any problem staying active all winter long.
Happy running!
Latest posts by Kacey Bradley
(see all)
Disclosure: In the spirit of full disclosure, DIYactive.com may be compensated in exchange for featured placement of certain reviews or your clicking on links posted on this website.