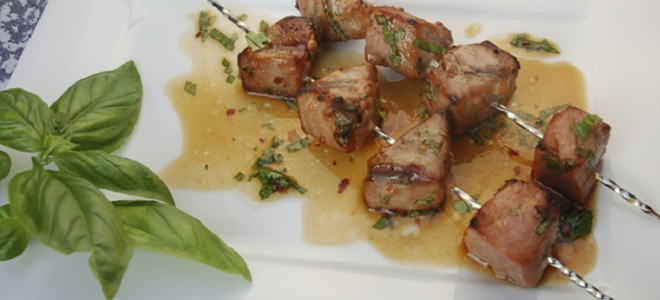 Tuna Kebabs Recipe
An easy, Asian-seasoned protein (tuna) for the grill and perfect for an afternoon summer cookout! A healthy, easy-to-make work of nutrition! Seriously, how awesome and easy is this recipe? It's easy enough where even we can make these tuna kebabs! If you are environmentally conscious – as we should all be a little more of – make sure to check out Seafoodwatch.org to learn the best types of canned and fresh tuna for your health and the environment. Makes 4 servings.
Tuna Kebabs Ingredients
2 tablespoons unseasoned rice vinegar
1 tablespoon fresh ginger, minced
1 tablespoon canola oil
1 tablespoon Asian sesame oil
2 tablespoons soy sauce
1 tablespoon honey
2 tablespoon fresh basil, chopped
½ teaspoon dried red pepper flakes
1 ½ pounds 1 1/4-inch-thick tuna steaks, cut into 1-inch cubes
Tuna Kebabs Directions
Combine all ingredients except tuna and skewers in a medium bowl. Place 4 tablespoons of the marinade in a small bowl and set aside.
Place tuna cubes in marinade and toss to coat. Refrigerate for 15 minutes.
Oil grill grates and heat grill. Thread tuna cubes onto skewers. Grill about 4 to 5 minutes to desired firmness, turning occasionally.
Transfer to a serving platter. Drizzle reserved marinade over tuna kebabs.
Ready to give them a try? Let us know how it goes below! Until then, eat up!

Latest posts by Jennifer Cohen Katz
(see all)