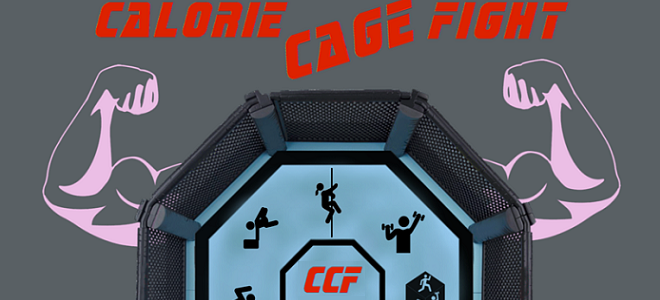 From Crossfit to Pole Dancing…
Have you ever considered how many calories get burned when you're swimming, doing yoga, crossfit…maybe even pole dancing? Ready to find out? We've put together this infographic that contrasts 8 popular workouts to determine which one dominates in the destruction of calories. We call this our Calorie Cage Fight, so let's introduce our contenders!


The crossfit/circuit workout came out to be victorious in this battle of ultimate calorie decimation. [Make sure to perform the exercises in a controlled fashion with proper form.
It's about building muscle and burning calories – not hurting yourself!] However, this isn't to say that the other contenders didn't bring their "A" game to the fight.
We featured them, after all, because they are each unique and incredible workouts, and when it comes down to choosing a great workout, one must also ask "which is the best for me?"
Can your body handle the impact from running, or would swimming with no impact be a better fit? If the melodious bouquet of sweaty gym towels, lockers, and quick-spray disinfectants don't appeal to you, then take your game outdoors with a ninja-parkour workout or a few hours of bouldering.
Here are some additional considerations:
Cost: How much cash does this workout require? Do you need to buy a membership, expensive equipment…Is it affordable?
Time: Hey, driving an hour to the hills for a good traditional climb is great, but can you do this regularly with your schedule to improve?
Space: Do you have the room required for your workout? If not, where can it be found? Be resourceful. Maybe you have the equipment and know-how, and a buddy or co-worker has the big backyard or garage space to build a gym. Collaborate and network!
Assistance: There are workouts you can do solo, and there are those that require assistance. Take into consideration what and who you need to have around you to do your workout safely and effectively.
Wrap-Up
As our winner, circuits/crossfit's leading attribute is its adaptability to incorporate and combine the highlights from just about any other workout.
This makes it an incredibly versatile activity that is only limited by one's imagination and, of course, resources.
It can be done almost anywhere, so if you're looking for a great, challenging way to reduce your waistline, circuits or the crossfit calorie burn will not disappoint.
Latest posts by Max Jackson
(see all)