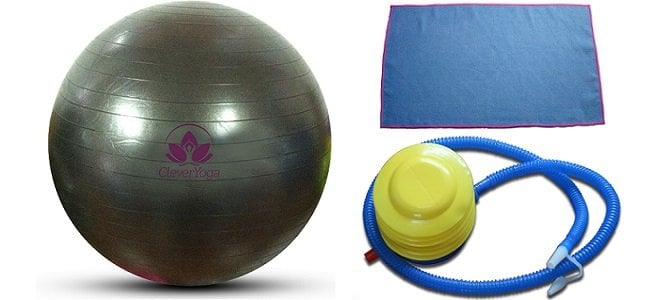 Need a Exercise Ball
By now everyone has probably used or at least seen a yoga fitness ball – or commonly referred to as a stability ball.
But what makes them so good?
Are they simply used to improve your core? They all the same? Those are all very good questions and that's why I was so glad that CleverYoga wanted us to review their yoga fitness ball! We put this stability ball to the test to check out its durability, how easy it was to actually inflate (did it take hours?) and just give it a thorough examination. So enough talk, let's dive in!

Your Go-To Exercise Ball?
"Excellent Exercise Tool to Add On For Your Whole Body Fitness"
Overview: Yoga fitness balls or commonly referred to as stability balls, are a great way to improve your flexibility, balance, and strengthen your muscles! CleverYoga also gives you a foot pump and a super absorbent hand towel to help you get your fitness on!
Features: 4.7/5

Guarantee

:

5/5

Customer Service:

5/5
Effectiveness: 4.6/5
Overall: 4.82/5
Overview
Yoga fitness balls or stability balls can be used for all kinds of purposes.
For example, they can be used to strengthen your core, improve your balance and flexibility, make stretching a little easier, and can even help improve your posture (and maybe alleviate lower back pain) by being used as a chair while hanging out at your desk.
So what makes this CleverYoga fitness ball such a great package deal? First, let's go over exactly what you get:
75cm Anti-Burst Yoga Fitness Ball
Foot Pump
15″ x 24″ Super Absorbent Yoga Hand Towel
So you basically get exactly what you need along with the hand towel which is a bonus freebie ($10) from CleverYoga – who couldn't use more towels when the sweat starts rolling? 🙂
When it comes to actually air up or "blowing" up the ball, many people get worried that a foot pump can take ages to do the trick, but that's simply not true. The foot pump makes it easy to inflate or deflate the ball – just simple stick the nozzle in and get going. It literally took me less than 7 minutes to air the ball up – which isn't that bad!
Lastly, when it comes to actually use the stability ball, it's one of the better ones I've used in terms of durability. This anti-burst ball makes for a great platform to stretch and get those 6-pack abs (with a ton of work and a great nutrition plan), but my favorite thing to use this ball for is a desk chair!
It definitely helps improve my posture – which is always a good thing. I will get more into the effectiveness in a little bit…
Guarantee/Customer Service
To me, I think one of the coolest things about the CleverYoga company is the simple fact that they are a small, family-owned business that strives to help their customers as much as possible.
That goes a long way with me, considering I come from a long line of small business entrepreneurs.
CleverYoga puts off that simple family-owned business, "Here for our customers" vibe that resonates well with their customers. They go so far as to provide their customers a 100% satisfaction guarantee (read it to the left). So if you buy this ball and dislike it (you won't) you have that 100% satisfaction guarantee that they will keep you happy and satisfied.
That goes a long way to keep their customers happy and coming back for more!
Effectiveness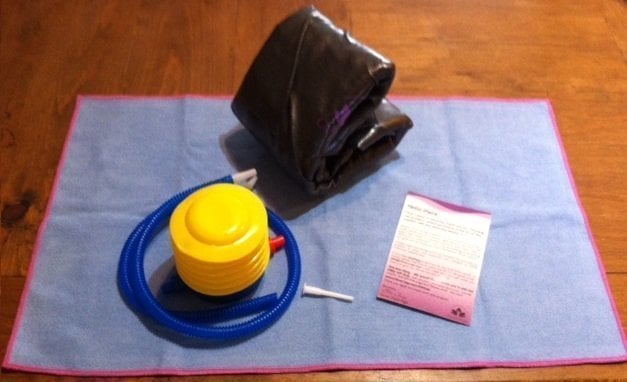 When it comes to stability balls, resistance bands, foam rollers…etc. their effectiveness is measured in how effectively the user can use them properly…Duh! First things first, the foot pump is really effective at airing the ball up (you obviously have to do that before using it) and it takes less than 7 minutes.
Secondly, the bonus hand towel is super-absorbent and will make a perfect complement to your killer workout!
Finally, this product is all about the yoga fitness ball/stability ball. Straight-up, it's an incredibly effective tool to help you increase your flexibility via stretching and improve your core and overall body strength via numerous exercises you can perform.
For instance, my favorite exercise is simply the ball plank which will totally rock your core! That is if you know how to do these exercises… that is literally the only thing that might hinder some is that there isn't a "quick start" guide that shows a few exercises you can do from the get-go!
This is pretty nit-picky because there are literally hundreds of exercises online to get you started right away – simply go to Google Images and type in "stability ball exercises" and you will be well on your way! #CleverYogaBall
Wrap-Up: Verdict
When it comes to the overall package, this is a great way to get your home gym started.
The effectiveness of a stability ball can greatly improve the number of exercises you can do at home to improve your strength and core stability.
Plus, I use mine as a desk chair to help make sure I keep my core engaged while sitting for hours on end. All-in-all CleverYoga's customer services, guarantee, free bonus towel, and just the overall package make this a great buy! Overall we give them a 4.82/5!
Want to get your own? Check it out HERE!

Latest posts by Josh Anderson
(see all)
Disclosure: In the spirit of full disclosure, DIYactive.com may be compensated in exchange for featured placement of certain reviews or your clicking on links posted on this website.