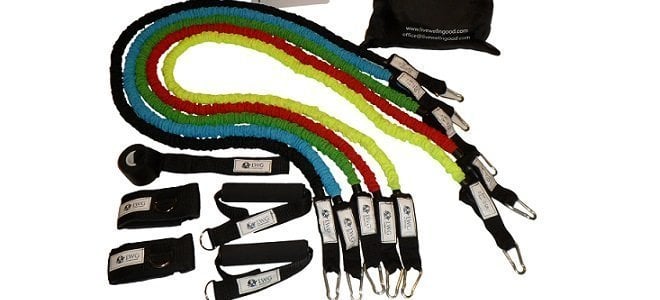 Resistance Bands Built With You in Mind
I'm really excited to bring you this review. This product – Live Good 'n Well (LWG) resistance band set – could be what many of you have been looking for.
It's not just because it has the potential to be your DIY gym but also because of its practicality and safety!
Yes, you want resistance bands to be effective and practical but you also want them to be safe and comfortable to use. If the handles/bands are painful to use, who the heck is going to use them all the time? We put these LWG bands to the test.

Resistance Bands For You?
"The Life You Want – The Life You Need"
What: Resistance Bands
By: Live Well 'n Good (LWG)
Overview: If you're looking for a convenient, safe, thrifty way to build your own DIY gym, then this set of LWG resistance bands may be what you need!
They are built with safety and comfort in mind so you won't have to worry about them pinching you. Makes for a great DIY Gym!
Practicality: 4.85/5
Safety: 5/5
Storage: 5/5
Effectiveness: 5/5
Overall: 4.96 / 5
Overview
As I've said multiple times before, in order to set up an effective at-home DIY gym (minus the typical bodyweight exercises) all you need are a couple of 5-8 pounds dumbbells and a few resistance bands.
This is because the beauty of stackable resistance bands that have a door anchor (like the LWG bands) is that you can do so many exercises that you can't normally do with simple dumbbells. Plus, the ability to have a resistance that ranges from a mere 5lbs up to 75lbs means you can get the results you want – which is exactly what the DIY Lifestyle is all about!
I could tell that two of the goals the folks over at Live Well 'n Good had in mind when they set out to make a set of bands were safety and comfort. They wanted bands that you could rely on upon without causing injury and they wanted to make them as comfortable as possible. They did a great job in accomplishing their goals.
Practicality
In this complete set you get:
Yellow (5 lbs.)
Red (10 lbs.)
Green (15 lbs.)
Blue (20 lbs.)
Black (25 lbs.)
Two handles and ankle straps
Door anchor
Manual
Carrying bag
First of all, you will notice that unlike normal bands these bands have a nylon fabric covering (more on that later). The second thing you'll notice is that these bands are heavy-duty – meaning they should last a long time!
The medium-sized handles mean that they aren't too big for the ladies nor too small for the guys. Going further, one of the great things about the wrist/ankle straps is that they are well-padded and comfortable to wear. This means that they won't cause chafing or discomfort. This makes them a valuable tool to help improve your lower body strength!
Lastly, I love the manual that comes with the set. It's frustrating when you get new equipment but have to spend 25 minutes figuring out how to use it. LWG provides a short, handy manual that has 18 exercises you can do with thorough instructions and images to go along with it. You can hit the ground running as soon as you get your set in the mail!
If I had to find one negative about the entire set (which I do since this is a thorough review) I would say that the nylon fabric has the potential to get dirty. Meaning the cool colors you originally get, might tarnish over time, but that literally happens with everything so it really isn't that big of a deal!
Safety/Storage
Safety and comfort are the #1 priority of LWG and they did a great job in putting this set together. The nylon covering is a great way to protect against any unexpected breaks and also is a great way to protect against skin/hair pinches. Just having that makes it worth trying out!
When it comes to storage, all you have to do is simply roll up the bands and place everything in the handy storage bag. You can literally fit your gym inside this little bag and store it in the closet – out of sight and out of mind – meaning you won't be tripping on bands that are carelessly lying around! #LiveWellnGood
Wrap-Up: Verdict
I really liked how the folks over at LWG made comfort one of their main priorities.
Because how would you expect to use a piece of equipment if it wasn't comfortable to use?
That is exactly why they designed their bands this way – so hopefully you will enjoy using them more and get great results at home! Overall, this was a great set of bands that I will continue to use personally and with my clients in the future! We gave the LWG resistance bands a 4.96/5!
Get your set of LWG resistance bands: HERE

Latest posts by Josh Anderson
(see all)
Disclosure: In the spirit of full disclosure, DIYactive.com may be compensated in exchange for featured placement of certain reviews or your clicking on links posted on this website.