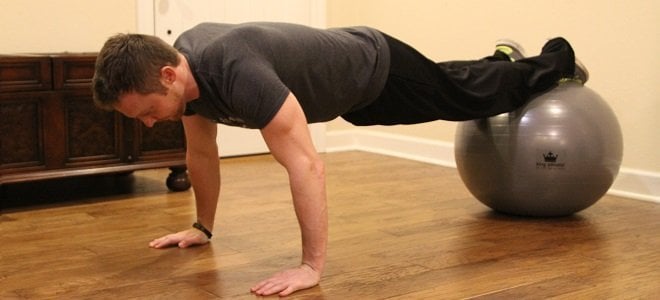 Garage Gym Ideas At Its Finest
Look, bodyweight exercises are friggin awesome but sometimes we can use some small, economical pieces of equipment to increase the number of exercises we can do and build a more effective workout! That's where garage gym ideas like this King Athletic fitness ball come into play! Check out what we thought of the product plus a simple, yet highly effective core workout you can implement in minutes below!

An effective, efficient at-home workout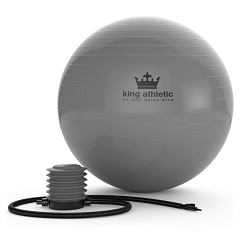 King Athletic
"he who dares wins"
Overview: To us, a fitness ball is a must when it comes to garage gym ideas. This is because they are highly effective and can be used in so many exercises. Plus, for the price of this King Athletics fitness ball, it's a steal!
Setup: 4.8/5
Effectiveness: 4.8/5
Cost: 5/5
Overall: 4.87 / 5
Overview:
Looking for a few simple, economical garage gym ideas or just a way to expand your home gym? To me, a fitness ball is a must because it can be so effective in so many ways.
From a simple platform to do presses to a desk chair, it is definitely worth the cost – especially when you get so much bang for your buck. Check out this review and a workout below to get you started!
Setup
Wait, what? Setup? Well by this, I frankly mean inflating the ball with the pump that comes with it. It's a cinch and you might think with a little hand/foot pump it will take you forever to inflate it. I think it literally took me 5-7 minutes to inflate it – although our dog went kinda crazy listening to that constant noise for 5 solid minutes.
Either way, once you get it pumped up, slip in the plug and you have a great piece of garage gym equipment.
Effectiveness/Uses
Well straight up, if you have bad form when using it then it's not going to be as effective. Now that we have that out of the way, the uses for this King Athletic 65cm fitness ball are pretty much whatever your imagination can dream up.
From using it as a platform for all of your presses, planks, core moves…etc. it is a great way to build muscle while also causing your core to stabilize during the entire move – therefore working your entire body all at once.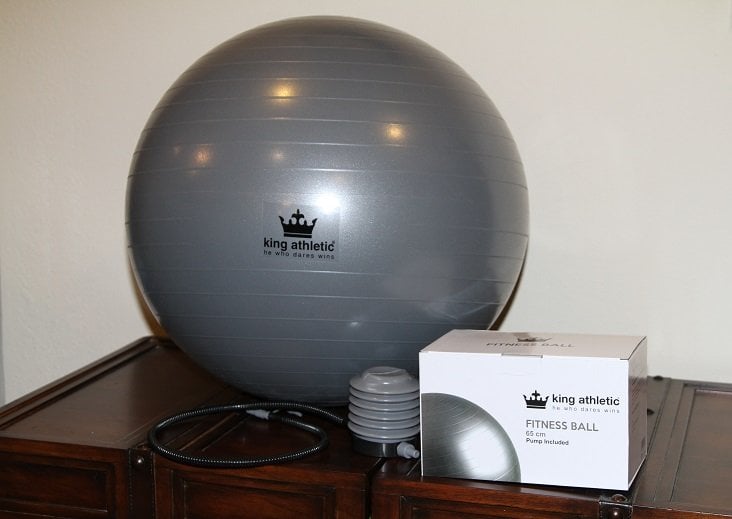 But then, of course, you can simply use this as an ergonomic desk chair. Kick your old chair to the curb and try this puppy out for a few weeks. It causes you to sit up straight and keep your core engaged the entire time – that's way better than slouching forward, having terrible posture, killing your spine, right? Sit up straight everyone!
Cost
Seriously… at less than a $15 spot you can have this incredibly effective, efficient piece of equipment.
With all the things you can use this for, there really is no reason not to have it in your repertoire! For less than $15 bucks, you have an ergonomic desk chair or a highly effective, core stabilizing base for your kickass home workouts, making this one of those great garage gym ideas!
Garage Gym Ideas: Fitness Ball Workout
Got a spare 15 minutes and a small space at home? Give this quick core workout a try. All you are going to do is perform these exercises in order for 30 seconds each (as many reps as possible with good form) with little to no rest between sets.
Do that 3 times and you will have performed a great workout in just a few minutes. (Make sure you are cleared by your physician before beginning any exercise program.) With all of these moves, because you are performing them on a ball, make sure to take extra precautions.
Decline Pushup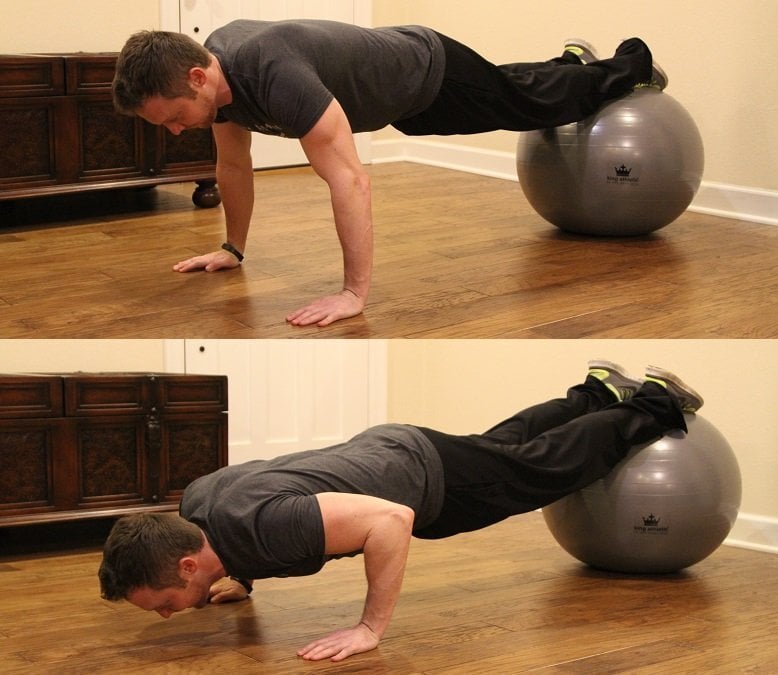 This is a good exercise to build core and upper body strength. Just put your feet on the fitness ball, keep your body straight, and perform a normal pushup! It's harder than it looks! 🙂
Crunch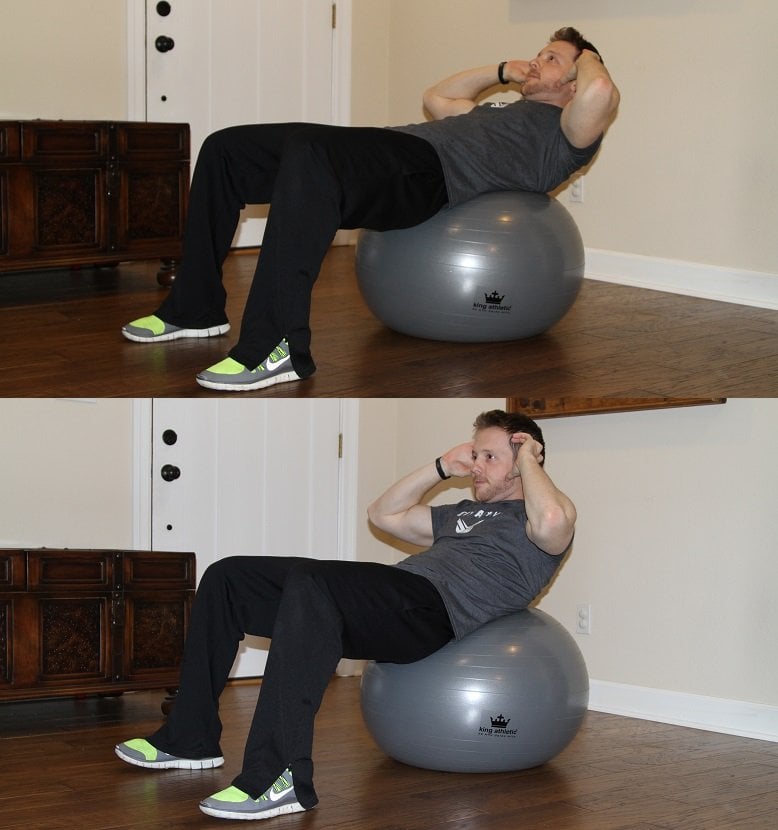 You've probably seen this done in every gym across the nation (or you've done it yourself). Put the fitness ball under your lower back and then perform a crunch. Make sure to really concentrate on the muscle contraction to get a great workout.
Superman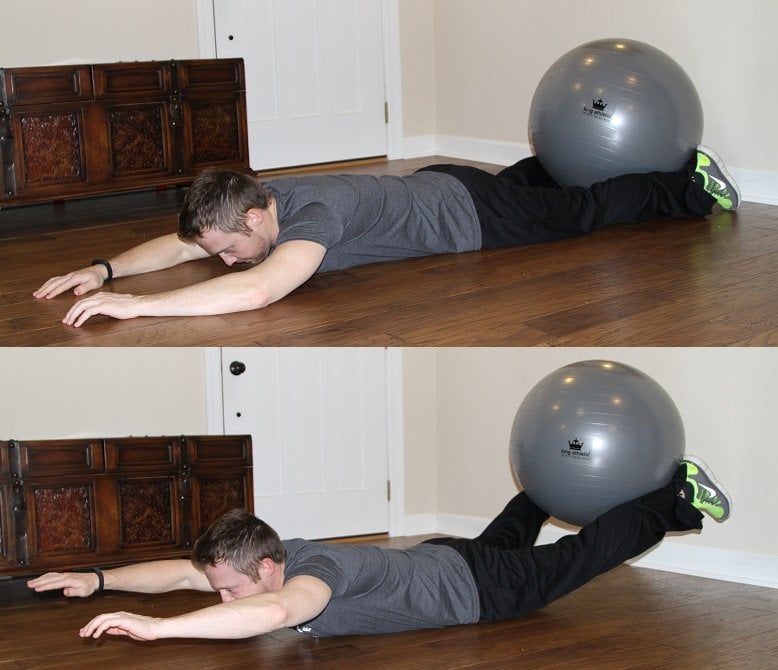 Laying on your stomach with your arms extended overhead and the fitness ball between your feet, squeeze your feet together to keep the fitness ball in place and perform a superman (raise your arms/upper chest off the floor as you raise your legs off as well to work your lower back).
Crazy Plank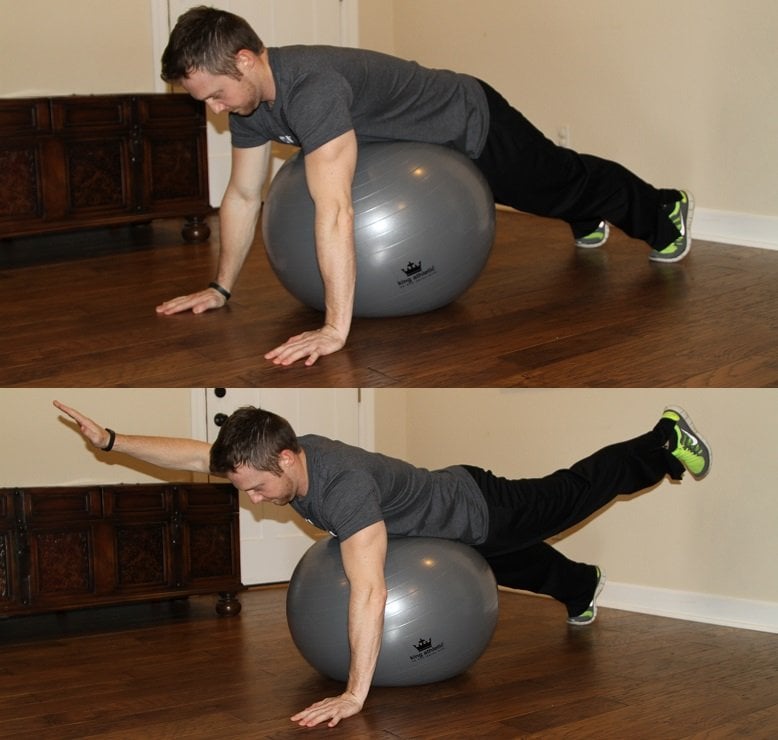 With your feet and hands in the pushup position and the fitness ball under your stomach for support, raise the opposite arm and leg off the ground and then return them to the starting position. Perform on the other arm and leg as well.
Back Extension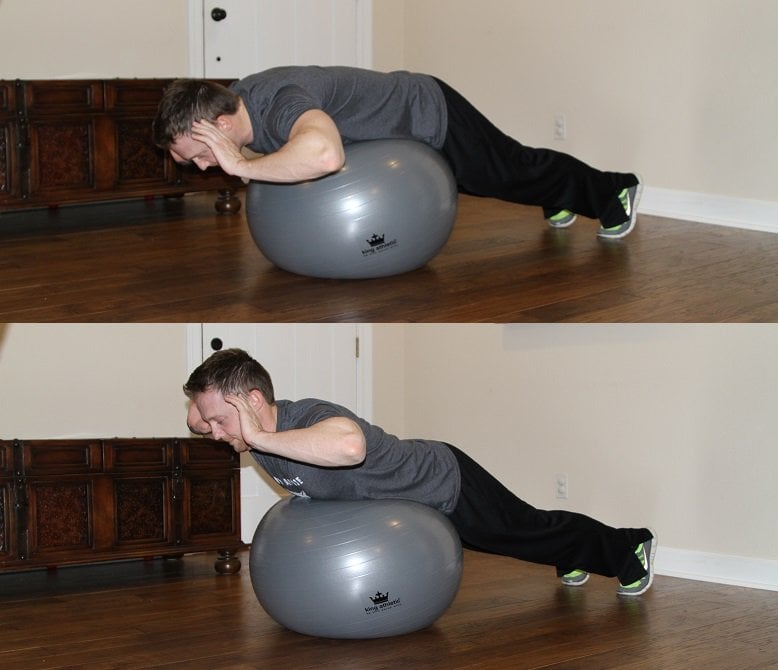 With your feet on the ground, a fitness ball under your stomach for support, and your hands on your head, extend your upper body up (via your lower back) before returning to the starting position.
Wrap-Up: Verdict
Having a fitness ball is such a huge advantage when it comes to getting a great workout in at home because it gives you so many possibilities. I literally created the above workout in minutes and there are dozens and dozens of other exercises you can perform as well!
Make sure to have a fitness ball in your home gym arsenal to give you nearly unlimited exercise possibilities!
Overall we give this effective product a 4.87/5!
At the price and all of the uses, this is a great deal (we highly recommend them)! Get yours HERE

Latest posts by Josh Anderson
(see all)
Disclosure: In the spirit of full disclosure, DIYactive.com may be compensated in exchange for featured placement of certain reviews or your clicking on links posted on this website.