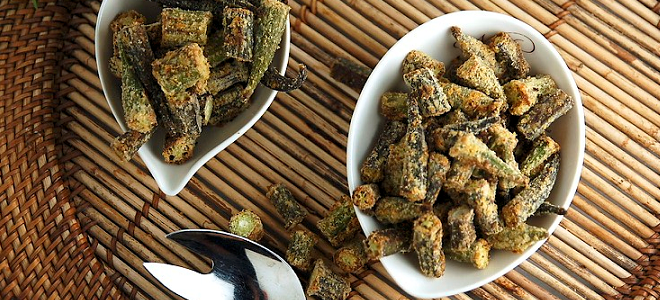 Roasted Okra Recipe
This uniquely shaped vegetable contains a load of fiber called pectin that helps lower cholesterol. There are even more types of fiber in okra that help to prevent constipation and maintain a healthy digestive system. This makes this roasted okra recipe a perfect addition to any meal or snack! Makes 4 servings.
Roasted Okra Ingredients
1 pound okra
1 tablespoon olive oil
2 tablespoons brown rice flour
1 teaspoon nutritional yeast
1 teaspoon dried oregano
¼ teaspoon sea salt
⅛ teaspoon cayenne pepper
Directions
Preheat oven to 450℉.
Rinse the okra, and drain on a kitchen towel to dry.
Trim stem ends and the tips.
Transfer okra to a large bowl and toss with the olive oil.
Combine the remaining ingredients in a small bowl.
Pour over okra and toss to coat.
Arrange in a single layer on a parchment paper-lined baking sheet.
Bake 15-20 minutes until lightly browned.
Looking for a certain recipe? Special meal? Anything else you can think of?
Let us know and we will make it happen! We love giving you exactly what you want so drop us a line today!
Give this recipe a try and let us know below.

Latest posts by Jennifer Cohen Katz
(see all)