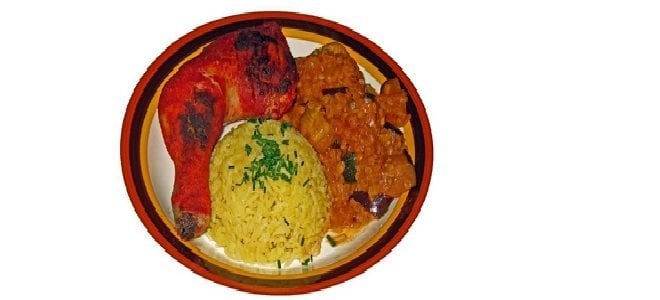 Tandoori Chicken Masala Recipe
Tandoori Chicken is one delicious contribution to the world from India. While chicken is consumed all around the world, what makes the Indian version so special is the addition of certain spices that are found and used exclusively in India. The bright colors and charred flavor of tandoori chicken are something that you will not find in the west.
Tandoori Chicken
It is the preparation that makes this dish so delicious and popular all around the world. The secret to a great chicken tandoori lies in the marination, which is also known as tandoori masala. A number of spices are blended together to form tandoori masala and once they are mixed, other items are added (such as yogurt, garlic, lemon, and ginger).
Now, ideally, the tandoori chicken should be prepared in a traditional oven, which looks like a hollow drum in which a fiery lump of coals is placed at the bottom to cook the food. The insides of the drum are coated with the paste of wheat straw and mud. But, as we live in the cities where such gigantic ovens are difficult to accommodate, it is OK to use a BBQ grill as well. It will serve the purpose and you will get a delicious, mouth-watering dish.
The orange color that appears on the chicken after it is fully cooked is also due to the blend of spices that we add during the marinating process. This creates a spicy, smoky, and aromatic flavor to the chicken. In India, spices can be easily bought from any grocery store. People living abroad can also find Indian spices in any Indian store or big supermarket.
If you are not accustomed to the spicy tandoori masala, then you can prepare a less spicy version. When you feel comfortable with the Indian spices, then you can make them stronger. Tandoori masala is not just for chicken; you can use it for seafood, vegetables, cottage cheese (paneer), and many other food items.
How to make tandoori masala at home?
Ingredients
2 teaspoons chili powder
3 teaspoons coriander powder
2 teaspoons turmeric powder
3 teaspoons cumin powder
4 cardamom pods—seeds removed and ground
2 teaspoons cinnamon powder
2 tablespoons sweet paprika (for color)
Preparing masala
Put all the spices in an airtight bowl together so that the freshness and aroma don't dissipate from the spices.
Tandoori chicken can be prepared in a few easy steps. If you are planning it make Tandoori chicken for lunch tomorrow, then it is better to marinate the chicken tonight so that the spices can be pervaded into the chicken.
Tip: Before broiling the chicken, it's better to bake the chicken first on high heat. This will help keep the chicken moist and juicy inside. Moreover, the spices and the crunch will remain intact as well.
As a final touch, you can use yogurt, mint sauce, red onion, and lemon wedges for garnish.
If you'd like to try a slightly different way of preparing the masala, you can try this version:
Ingredients
1 teaspoon chili powder
1 teaspoon garlic paste
1 teaspoon ginger paste
1 cup plain yogurt
Salt to taste
1 teaspoon garam masala
2 tablespoons lemon juice
4 teaspoon tandoori masala
Coriander or cilantro and lemon wedges for garnish
Method
Take a bowl and put 8-10 drumsticks (or whatever you're mixing with the tandoori masala) in it. Add chili powder, ginger-garlic paste, lemon juice, and salt into the bowl and mix everything together. Refrigerate for an hour.
In a separate bowl, mix together the yogurt, garam masala, and tandoori masala.
Preheat oven to 450F.
After an hour, remove drumsticks from the fridge. Add them to the yogurt mixture, ensuring each piece is thoroughly coated. Marinate this for an hour.
Grill (or bake) drumsticks in the oven for 20 minutes or so. Flip after 10 minutes.
Switch your oven to the broiler and cook the drumsticks for 3-4 minutes on each side, or until the chicken becomes charred.
Place the drumsticks on a serving platter. For garnish, take some lemon juice and sprinkle it all over the platter, then add cilantro, red onion, and lemon wedges.
Looking for a certain recipe? Special meal? Anything else you can think of?
Let us know and we will make it happen! We love giving you exactly what you want so drop us a line today!
Give this recipe a try and let us know how you liked it below.

Latest posts by Monica Henin
(see all)
Disclosure: In the spirit of full disclosure, DIYactive.com may be compensated in exchange for featured placement of certain reviews or your clicking on links posted on this website.