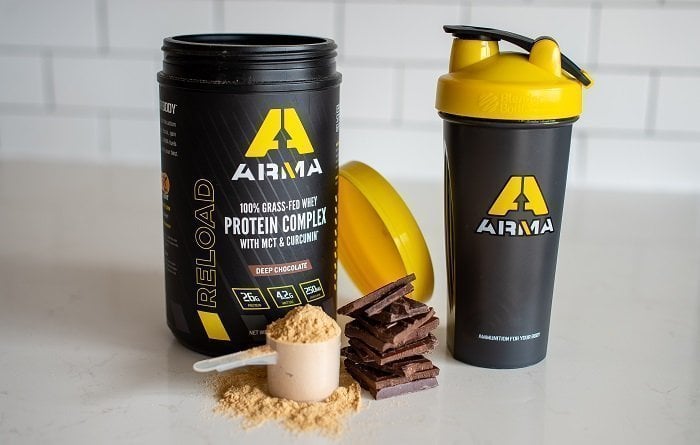 Recover and Reload with ARMA Protein Complex
Picture this: you've just finished a long, hard workout. You want something energizing and tasty, but still healthy. If you're a very active person, the ARMA Reload Protein Complex might be right for you! Find out what we thought about this protein complex.

Recovery protein complex
With curcumin (a natural chemical compound found mainly in turmeric) and BioPerine (which can come from black pepper), ARMA RELOAD provides anti-inflammatory relief after a workout session, which means you can experience a quicker and more comfortable recovery.
The benefits of the ARMA Complex aren't limited to a post-workout session recovery drink. Because of the BioPerine in ARMA RELOAD, it can be used to lose weight and repair hard-working muscles.
On top of the nutritional benefits, it comes without artificial sweeteners which were huge to us. This means that the Very Vanilla taste doesn't have an artificial aftertaste. It also mixes really well!
Complete Protein Complex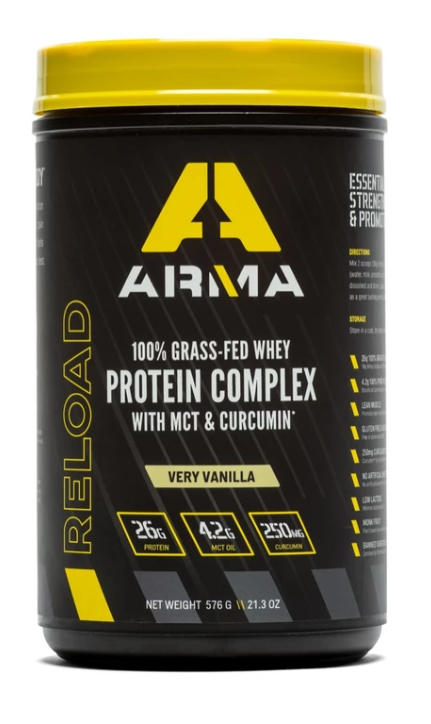 The entire ARMA system is designed around your lifestyle and can be modified to meet your needs.
For example, if you are looking for a low-calorie, high protein supplement to boost your nutrition every day, ARMA RELOAD can be added to your first glass of water, your morning yogurt, or a glass of milk to add 26g of whey protein to your morning routine.
Before you start a workout, ARMA RELOAD can be a great source of the nutrients your body needs to fuel your session. The protein and medium-chain triglycerides (MCTs) prep your metabolism and mind for optimal performance.
After a workout, ARMA RELOAD is able to provide those same nutrients that the body used up during the session. This makes for a quicker recovery and better muscular improvement.
ARMA RELOAD is specifically designed to be easily absorbed by the body and put to work in muscle recovery.
Anti-Inflammatory Protein Complex
The anti-inflammatory benefits of curcumin and BioPerine also help make ARMA RELOAD a smart choice for workout recovery. During a workout, the body floods the muscles with blood, carrying the nutrients you need.
The muscles you target get more and more involved, which many people refer to as getting 'pumped' or 'swole', or some new term that means the same thing. What these terms are referring to is actually inflammation.
Most people assume that inflammation is a bad thing, but it isn't that simple. In the moment of a lifting session, run, or other workouts, inflammation is an essential tool to use all available strength.
After a workout, though, you will want that inflammation to come under control. ARMA RELOAD is an excellent tool for dialing back that inflammation and recovering from the workout.
We saw some great muscle gains with quicker recovery time.
Survival Legion Weighs In
We wanted a second opinion, so we gave a tub to one of our good friends and all-around beasts, Rich Bearden of Survival Legion to get his hot take. He's not the type to mince words so we asked him for his opinion of the ARAMA RELOAD Deep Chocolate flavor.
Here's his take, "Solid chocolate flavor and smell, not chalky, which is a major deciding factor when purchasing a protein powder. I also love the fact that there are not a lot of additives in the powder. Mix it with milk or chocolate milk for some extra thickness, but it tastes just fine when water is all you have to mix it with."
Wrap-Up
Here are some other perks, it is also proven to help with liver function, is hormone-free, gluten-free, non-GMO, and preservative-free, and has low lactose levels.
It really is a great tasting, recovery supplement to help you get over those grueling workouts and get prepped for the next one.
Pick up a tub of ARMA RELOAD today!
Disclosure: In the spirit of full disclosure, DIYactive.com may be compensated in exchange for featured placement of certain reviews or your clicking on links posted on this website.