Top Tips for a Healthy Summer Vacation at the Beach
Summer is finally here! Guess what? It's time to unearth the swimwear and head to the beach. Unfortunately, though, people tend to spend their summer vacations in an unhealthy way. But, don't worry, because we've got you sorted with tips for a healthy summer vacation at the beach. If you keep social distancing in mind, you can still have a great time!
Tips for your healthy summer vacation
Pro tip: it's important to note that you need a good beach cart before you can head over to the beach. A beach cart enables you to carry everything you need for the day. Thus, you don't have to make countless trips from the beach to your vehicle.
Drink a lot of water
Summer is characterized by warm weather, which could leave you dehydrated if you don't drink water. Therefore, ensure you drink enough water so that your skin remains healthy. Experts recommend at least eight glasses of water daily.
You're probably wondering how you can tell if your body is dehydrated. Well, dehydrated skin when pinched takes time to bounce back. Besides, if you don't drink enough water, your urine appears dark-tinged.
Practice yoga
The sunsets and sunrises at the beach provide the best environments to practice yoga. The views of the sun reflecting on the blue waters offer the ambiance to help you meditate and exercise.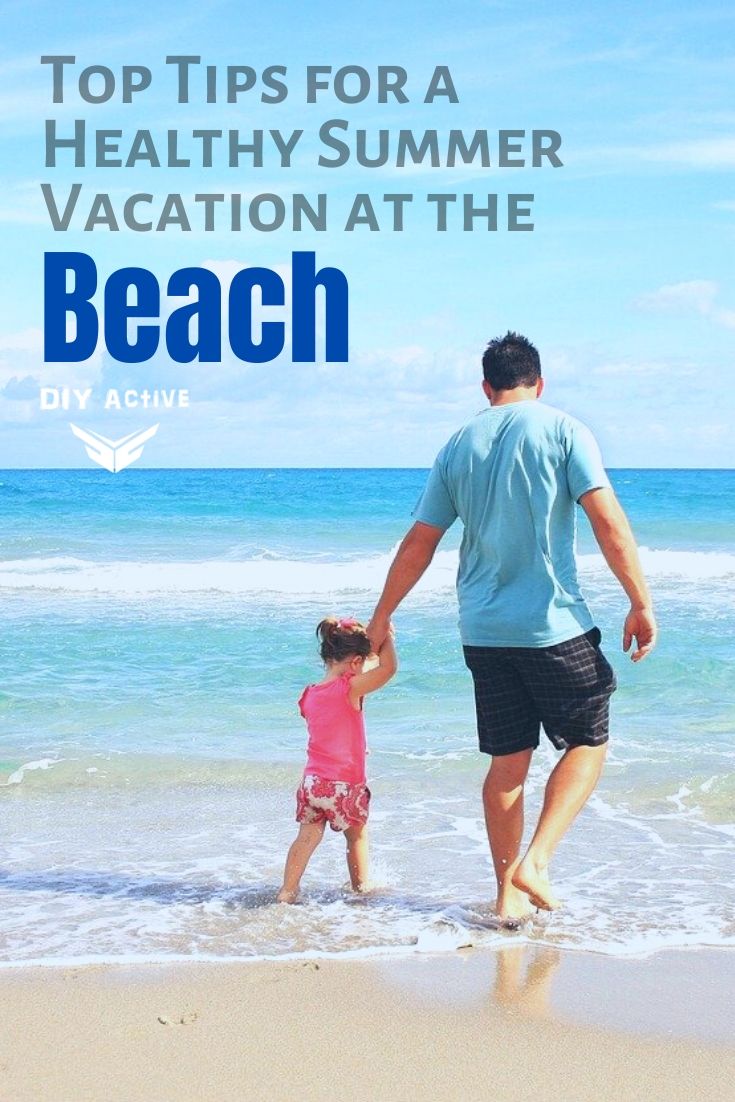 Therefore, as you embark on your beach vacation, ensure to pack your yoga pants for a healthy holiday.
Remain active
As much as you want to rest during your trip, it's paramount to balance rest and activity. You can swim or go kayaking while at the beach.
Point is; don't sleep on the sand all day. Instead, keep yourself occupied with activities that can keep you healthy.
Eat healthily
The thing with beach vacations during summer is that they often tempt us to eat all junk. Yes, the beloved ice creams in hot weather and some roasted meat.
However, for a healthy getaway, ensure to eat reasonable portions of vegetables and fruits. Eating healthy ensures that you don't end your vacation and start struggling with extra weight.
Get a balance between some cheat days and good eating habits.
Wear sunscreen
The sun during summer can quickly get your skin burnt. Exposing your body to extreme heat can also cause skin diseases and premature wrinkling. Thus, ensure you have enough sunscreen during your trip and apply it generously.
Besides, you can limit the amount of time you get exposed to the sun by only enjoying it directly in the early morning hours or the evening. In the morning and the evening, the sun tends not to be overly hot.
Jog or walk
The beach often has jogging or walking tracks. You can enjoy a walk or a jog early in the morning or in the evening. Jogging and walking incorporate exercise into your vacation and also give you the chance to explore the beach on foot.
Protect your eyes
Your eyes need protection from the sun's rays and the excess light at the beach. You should, therefore, ensure you have with you a pair or two of your favorite sunglasses.
The sunglasses should also cover the eyelids to protect them from damage.
Sit under an umbrella
Understandably, you also need ample time to rest and catch up on your favorite book or even watch other vacationers. It's advisable to always sit under an umbrella to protect your body from excess heat.
Wrap-Up
In summary, beach summer vacations are tempting, and one could end up leading an unhealthy life. As such, ensure to balance between fun and good practices.
This guide gives a comprehensive approach to spending healthy summer vacation.
Disclosure: In the spirit of full disclosure, DIYactive.com may be compensated in exchange for featured placement of certain reviews or your clicking on links posted on this website.