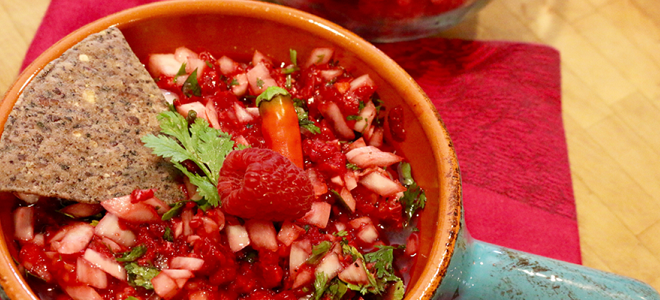 One Heck of a Tasty Recipe
I love the sweet-tart taste of red raspberries paired with unexpected flavors, such as the spiciness of a salsa. This pairing creates an ultimate tasty recipe you can eat anytime for a quick pick-me-up or a great way to fill up during a snack session! This recipe is super easy to whip up and oh-so-pretty at your next party!
Ingredients
1 ½ cups frozen red raspberries, partially thawed
2 limes, juiced
½ onion, diced
1 small chili pepper, finely diced
¼ cup chopped cilantro
Pinch sea salt, cumin, and black pepper
Directions
Place raspberries in a small mixing bowl and mash slightly.
Stir in lime juice, onions, chili pepper, cilantro, sea salt, cumin, and black pepper.
Serve immediately with chips or as an accompaniment to savor dishes.
Looking for a certain recipe? Special meal? Anything else you can think of?
Let us know and we will make it happen! We love giving you exactly what you want so drop us a line today!
Give this recipe a try and let us know below.

Latest posts by Sharon Palmer
(see all)