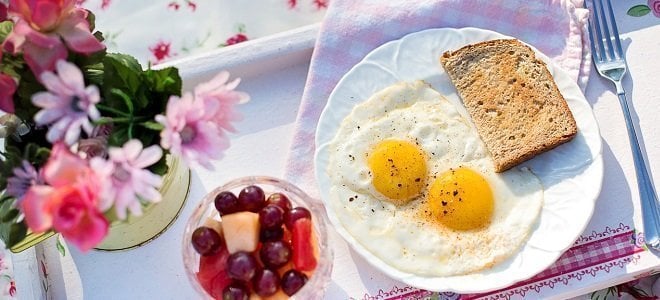 No More Bad Breakfast
In Part I of this series we gave you the straight-up truth as to why breakfast is so important, plus we gave you a couple of alternatives to hold you over until Part II. Well, you don't have to wait any longer; it's time to throw away the bad breakfast. Here you will find 25 examples of recipes and foods you can eat for breakfast that will save you time and sleep!

Bad Breakfast: Eat healthier
That is what it is all about: saving time and getting more sleep which will hopefully start to help breakfast become a common everyday, sustainable practice for you!
You don't have to be one of the 31 million Americans that skip breakfast each day, at least not anymore. Let's dive into our 25 expert-recommended ways to help you consume a quick and healthy breakfast (not in a particular order).
Quick Tip: Prep the Night Before
Almost every expert recommended prepping the previous night in order to just pop out of bed and chow down to save you the most time and possible.
Likewise, almost all the experts recommended a meal full of high-quality protein and slow-digesting carbs. For instance, SharonPalmer, RDN, author of Plant-Powered for Life said, "The key to a healthy breakfast is balance; it should contain good sources of lean protein, whole grain, and a fruit or vegetable.
This combination provides protein, slowly digested carbs, and a punch of nutrients to your day; plus you won't feel hungry later on."
Breakfast Ideas
1. Continental Breakfast
"Arrange some sliced cold cuts, cheese, and bread on a plate and cover in plastic wrap. Do the same with fresh fruit, such as melon, papaya, or strawberries. Single serving yogurt cups are quick and easy to grab out of the fridge. With the table set, breakfast is on the table in minutes."
-Ginny Underwood, Professional Organizer, and Time Management Consultant, and founder of Virginia's Easy Living Solutions
2. Crust-Less Quiche
"Combine several egg whites, a whole egg, a mix of your favorite vegetables ( I like spinach for its great nutritional profile), a couple of ounces of chicken breakfast sausage or two slices of crumbled bacon, and a couple of ounces of your favorite cheese.
Takes about 25 minutes and takes about 30 seconds to reheat in the morning… Simple, great-tasting food that can really save you time in the morning by putting in less than an hour of effort a day or two prior!"
–Amanda Buckley, MS CSCS CISSN
3. Hard-Boiled Eggs
"Peeled the night before are great to grab and go with a little salt and pepper."
-Colleen Flaherty, CPT, CSCS and owns Awakened Athlete
4. Green/Fruit Smoothies
"[Made] with a magic/Nutri bullet, allows you to get a great mix of nutrition in a fast, drinkable form. Throw handful of spinach/baby kale, 1/4 c frozen fruit of choice, 1 banana, 1 tsp chia seeds, a couple of leaves of cilantro, and water. Blend and go!"
-Colleen Flaherty, CPT, CSCS and owns Awakened Athlete
5. Greek Yogurt
"[This] is high in protein. A serving size served with frozen fruit and topped with raw honey and ground flax is an easy meal to throw together in the am and eat at the office"
-Colleen Flaherty, CPT, CSCS and owns Awakened Athlete
6A. Instant Oatmeal Prepared in a Microwave
"I can flavor with raisins, cinnamon to my taste and be able to eat within 2 minutes…The microwave is your best friend."
-Dan Flores, RTSm
6B. Scrambled Egg Omelet
"…prepared the night before [this] tastes just as good the next morning after 30 seconds in the microwave."
-Dan Flores, RTSm
7. Blended Shake
"A simple mix of whey protein powder, water/milk, fresh fruit, and a teaspoon of peanut butter can be a quick meal in less than 5 minutes."
-Dan Flores, RTSm
8. Leftovers
"There are no rules when it comes to what you have to eat at a meal so heat up the leftover steak and potatoes and you won't feel that crash later!"
-Laura Ligos, MBA, RDN The Sassy Dietitian
9. Full Bodied Smoothie
"Made with coconut milk (or full-fat organic milk), avocado, almond butter, a handful of berries, 1-2 cups greens (spinach/kale), and my favorite "protein powder" Great Lakes Gelatin."
-Laura Ligos, MBA, RDN The Sassy Dietitian
10. Bulletproof-Style Coffee
"It's where you brew organic, fair-trade coffee and blend it with grass-fed butter. This is great because it "BioHacks" your metabolism by tricking your body into thinking it's still fasting…So it essentially gives you immediate and lasting energy while helping to reduce body fat and improve body composition."
2 cups brewed coffee
1 tbsp raw Organic Pastures butter
1 tbsp raw Organic Pastures cream
1/4 tsp Himalayan or Celtic Sea Salt (finely ground)
1 tbsp Stevia (non-GMO)
-Kusha Karvandi, CSCS founder of Exerscribe which monitors and adapts to the user's preferences
11. English Muffin, Peanut Butter, Milk, and Fresh Fruit
"I recommend 20-30g protein, plus a couple of servings of carbs (such as milk, yogurt, fruit, grains)."
–Dr. Jo, RD, inspires busy people to stay healthy, sane & productive with an upcoming book titled "Reboot"
12. Healthified Cafe Mocha + Banana + Hard-Boiled Egg
"Mix black coffee with a high-quality chocolate protein powder. This delicious protein-packed pick-me-up avoids wasted calories on sugar, provides a nice punch of caffeine, and can deliver up to 25g of protein to keep the person satiated. It's a win-win."
-Christie Miller Health and Happiness Guru, Founder of EatTrainWin, LLC
13. Healthified Cafe Mocha + Peanut Butter Toast
"Made with high-quality bread (I use Ezekiel 4:9 Sprouted Bread) and natural peanut butter. Can it get any easier or quicker or more delicious? Nope. That's why I have one of these combinations almost daily."
-Christie Miller Health and Happiness Guru, Founder of EatTrainWin, LLC
14. Almond Butter
"You can make ahead by putting 1 ½ tablespoon into a plastic baggie and refrigerating overnight, with a small green apple or green juice."
-Sarah Nelson, Pilates, Barre, & Spinning Instructor
15. Chia Pudding
"I can make [it] ahead and change the flavor by adding nuts, berries, coconut, fruit, etc. To make chia pudding, mix 1/3 cup chia seeds with almond milk (or your favorite milk) and put it in the fridge overnight. In the morning, stir it up, add a little honey if you like, and any fruit or nuts for extra flavor and texture."
-Sarah Nelson, Pilates, Barre, & Spinning Instructor
16. Breakfast Sandwich
"I prepare the night before an omelet with lots of vegetables. In the morning, I simply warm the omelet, make some toast and run! Other variations are using wraps, sandwich thins, and English muffins."
– Christina Major, The Health Recovery Expert, and creator of the Grocery Store Shopping Trip
17. Mini Greek Breakfast Fritattas
"They're basically a scrambled egg omelet that is baked in muffin cups. They can be flavored in lots of different ways depending on what veggies and cheeses you have in the house and what spices you want to use." Here's the basic recipe:
3 whole eggs (preferably Omega-3)
2 egg whites
1/4 cup crumbled Feta (plain or Feta with tomato)
1/2 cup chopped Baby Bella mushrooms
1/4 cup frozen chopped spinach, thawed and squeezed dry
6 grape tomatoes sliced in quarters
ground black pepper, oregano, and basil
Preheat oven to 350 degrees. Whisk or beat the eggs and egg whites together until well combined. Add chopped vegetables and Feta. Pour into 6 regular-sized* muffin cups which have been sprayed with nonstick olive oil spray. Bake 20-25 minutes until eggs are set.
-Ann Musico holistic health coach at Three Dimensional Vitality
18. Ann's Protein Muffins
1 cup flour—¾ cups quinoa flour and ¼ cup coconut flour (or any combo of
gluten-free flours you like totaling 1 cup)
¾ cups quinoa flakes or old fashioned oats
1 scoop whey protein
1 cup unsweetened, flaked coconut
4 tsp. aluminum-free baking powder
1 tsp. baking soda
1 tsp. cinnamon
4 tbsp. Lakanto (natural sugar-free, calorie-free sweetener) or rapadura
(unprocessed sugar), or coconut sugar
1 tsp. sea salt
¼ tsp. guar gum
3 eggs (Omega-3)
4 tbsp. olive or coconut oil
3 mashed bananas or 1 cup unsweetened applesauce (can substitute 1 cup canned pumpkin)
Combine wet and dry ingredients until thoroughly combined. You can add in wild blueberries, chopped frozen cherries, Chia seeds, cranberries, dried fruit, flax seeds, sesame seeds, pine nuts, walnuts, or whatever add-ins you like. Bake at 350 for 15-20 minutes for large muffins. Makes 12 large muffins which freeze very well.
-Ann Musico holistic health coach at Three Dimensional Vitality
19. Scrambled Eggs with Frozen Veggies and Beans
Veggies typically are tri-color peppers, spinach, and broccoli. "I usually make a big batch on Sundays so I have this readily accessible during the busy work week…
I love this combo because it's a great way to start the day with a rich protein source along with a nice portion of veggies. Adding the beans serves as a fiber-rich complex carb source that keeps my energy going throughout the morning."
-Kim Ferreira, MS, RD, LDN
20. Smoothies
"I have experimented and come up with a recipe that suits me well:
coconut water
splash of apple cider vinegar
plain yogurt
1T almond butter
a couple of grapefruit slices
frozen berries & mango
flaxseed
splash of lime juice
spinach or kale
(I add water if it needs more liquid)
I used to shy away from smoothies because I found myself hungry after a couple of hours but this combination keeps me full and full of energy first thing in the morning. Also, a great way to start your day with a serving of fruit and veg!
I love the apple cider vinegar and lime juice (optional) for a bit of a tang. Again, I typically make a large batch that will last me 2-3 days so I'm ready to pour and go in the mornings."
-Kim Ferreira, MS, RD, LDN
21. Oatmeal with Berries, Nuts, Seeds, Maple Syrup
"You can either prepare the oatmeal in advance or use an instant variety. Have berries, nuts, seeds (anything you like, really), on hand in your kitchen, and just throw them on top. The best part with this is that you can get creative. Add coconut, raw chocolate, nut butter, etc.
If you don't already have various toppings or don't want to think about which ones to buy, you could just buy a bag of trail mix and throw a handful of that on top."
-Kara Levine, Certified Pilates Instructor, Holistic Health Coach, founder of Blush Wellness
22. Fruit/Veggie Smoothie
"In the morning just throw them [pre-frozen fruit and veggies] into the blender with your choice of milk and/or add-ins." Here's a really simple recipe:
1 banana
1 cup frozen berries
1 large handful of spinach
1/2 cup nut milk
1 tablespoon peanut or almond butter
1 tablespoon maple syrup or honey to sweeten (optional)
-Kara Levine, Certified Pilates Instructor, Holistic Health Coach, founder of Blush Wellness
23. Banana and Yogurt or Cottage Cheese
"A go-to when there's absolutely no time. Bananas are perfect food for busy people on the go. The yogurt and cottage cheese add the right amount of protein to keep you full until lunch. Absolutely no prep involved."
-Kara Levine, Certified Pilates Instructor, Holistic Health Coach, founder of Blush Wellness
24. Super Fast Eggs and Fruit
"You can either hard boil them the night before or over the weekend, just grab from your fridge and eat with the fruit of your choice. If you don't like eggs hard-boiled, you can also scramble them in the microwave in 2 minutes. Pop them in for about 45 seconds, stir, go another 30-45 seconds and they are done."
-Kara Levine, Certified Pilates Instructor, Holistic Health Coach, founder of Blush Wellness
25. Peanut Butter and Jelly
"Whole wheat toast with one serving all-natural peanut butter and fruit of your choice (my favorite is blueberries; just layer them over the peanut butter, and smash them down. Tastes just like a jelly without added sugars or other chemicals).
All you have to do here is toast the bread…but if you don't have time in the morning do it the night before and wrap in aluminum foil to grab in the morning."
-Kara Levine, Certified Pilates Instructor, Holistic Health Coach, founder of Blush Wellness
Wrap-Up
There you have it, 25 breakfast alternatives that you can do either the night before or even the Sunday before the workweek to ensure you have a simple, quick, healthy breakfast in the morning.
No more excuses for being a zombie anymore!
As Christie-Miller said, "The key to a nutritious breakfast is K.I.S.S. – Keep it Swift and Simple."
Consume that breakfast; it can set you up for a great healthy day! Can you handle that?
If you missed it: How Bad is Your Breakfast? Part I

Latest posts by Josh Anderson
(see all)
Disclosure: In the spirit of full disclosure, DIYactive.com may be compensated in exchange for featured placement of certain reviews or your clicking on links posted on this website.