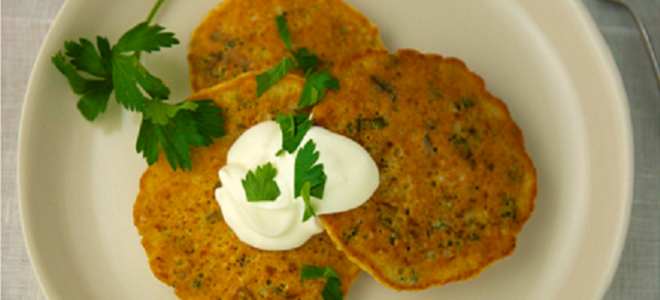 Cauliflower Pancakes Recipe
These elegant pancakes are made with chickpea flour which gives them a sweet, rich flavor and is also gluten-free. Another perk, cauliflower is one of the cancer-fighting cruciferous vegetables. You can usually find chickpea flour at your local grocery store. Makes four servings of cauliflower pancakes.
Cauliflower Pancakes Ingredients
6 tablespoons olive oil, divided
3 green onion, chopped
½ teaspoon kosher salt
black pepper
1 cup cauliflower, grated in a food processor or hand grater
1 large egg
¾ cup chickpea flour
¼ teaspoon baking powder
½ cup plain greek yogurt
¼ cup fresh parsley, chopped
lemon, cut into wedges
Cauliflower Pancakes Directions
Heat 2 tablespoons oil in a large pan. Add green onions and cauliflower and cook, stirring occasionally, until starting to brown, about 4 minutes. Transfer vegetables to a plate to cool. Wipeout skillet.
Whisk egg, chickpea flour, baking powder, 1 tablespoon oil, ½ teaspoon kosher salt, pepper, and ½ cup water in a medium bowl. Set aside 5 minutes. Stir vegetables into batter until just coated.
Heat 1 tablespoon oil in the large pan. Add 1/4 cup batter to form each pancake, flatten gently. They are ready to flip when bottoms are lightly browned and bubbles form on top. Flip pancakes and cook about 2 minutes longer. Transfer to a platter covered with foil to keep warm. Heat 1 tablespoon of oil in a pan for each batch of the remaining batter.
Serve with yogurt, parsley, and lemon wedges.
Looking for a certain recipe? Special meal? Anything else you can think of?
Let us know and we will make it happen! We love giving you exactly what you want so drop us a line today!
Give this recipe a try and let us know below.

Latest posts by Jennifer Cohen Katz
(see all)