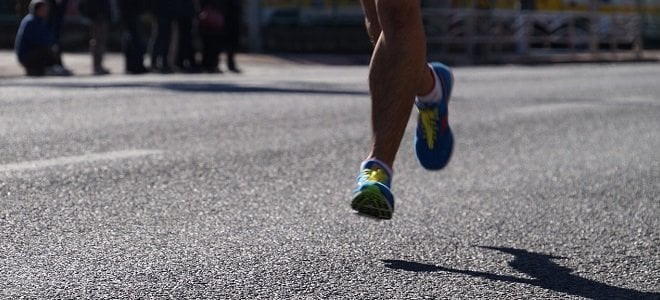 Want to Run a Marathon?
Honestly, can anyone run a marathon? Is it as simple as training a few times and then hitting the pavement? Check out this expert's advice as he gets you ready for your first marathon!

Understand that you can run a marathon
I'm often asked this question by clients, or more commonly told, "I could never run a marathon, because…" Here are the top five reasons I hear on a day-to-day basis:
My body isn't made for it
I'm too heavy
I don't have the willpower
I haven't got the time
It's not good for you and will cause long-lasting damage
I truly believe with the right training and commitment all of the above can be overcome.
You may not even like running but once you have experienced the enormous benefits physically and mentally, you'll soon understand why there is such an enormous and passionate running community.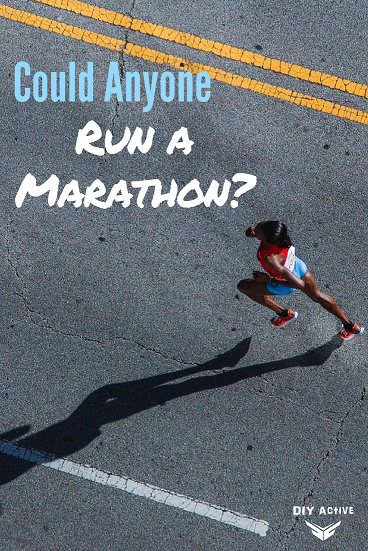 My first marathon was London, my enduring memory was the start line. I was staggered by the variety of shapes, sizes, and ages that were about to embark on one of the toughest challenges.
I realize now that pretty much everyone around me (including several Pantomime Horses, Rhinos, Bananas, and Grooms) had something in common… preparation and a certain amount of determination…
This really became apparent when on mile 20 I was passed by a couple of Bananas and three Grooms…
Commitment
The first hurdle is making the commitment – enter and tell all your friends/family. Not only are you ensuring that you have the support network to help you get through the darker moments of training you are also saying, "Right, but it's also on, it's official…I'm not going to let you down!" It's a great feeling making that first commitment… almost a relief.
Commitment will be easier if you have a reason to run a marathon, it could be for a charity that really means something to you, health reasons, weight loss…
Having reasons outside of just doing a marathon and aiming for a time, increases your focus in training or on mile 27 when you need that extra boost…
Which Marathon?
Choose your first marathon carefully. Consider the following points before entering:
Try and choose a marathon where the weather is relatively cool… Marathon season, although not exclusively, in the UK is held in the Spring, usually perfect running temperature.
Flat course. Running up hills is tough at the best of times and although your training may involve running up hills, trying to run up a hill after 3 hours of running is tough…
Cut off time. This is the time you're allowed to take to run the course, look for marathons that have a cut-off time of around 8 hours… That should give you more than enough time. If you're a first-timer, your main goal should be completion… You will be in a special club if you do. Only 0.5% of the population have completed a marathon…
There are hundreds of marathons you could enter, but picking a well-organized, well-supported marathon is a good place to start. You will be amazed how much the crowd support and atmosphere will help you. My top 3 for support marathons would be:

The London Marathon
The Dublin Marathon
The Brighton Marathon
Training Plan
Select a training plan that works for you. Most training plans are 12 weeks long and are usually constructed to help you finish in a certain time. If you don't have experience of running, I would suggest 18+ weeks before you are 'match fit'.
If you are starting from a low base and just getting moving, walking for a few minutes a day would be a good place to start. Then then you build to 15 minutes a day, 30 minutes a day until you're ready to jog.
Run/walk is a popular way to help you build your endurance (e.g. walking for 1 minute, running for 1 minute over a distance that's comfortable but challenging to you). The Couch To 5K plan is a brilliant place to start.
Once you have the base level of fitness and you can run/walk 15 miles per week, you're ready for a 12-week Training Plan. Runners World will generally have a plan for every ability, their 'Get You Round' plan is particularly useful.
Most plans will suggest you run a minimum of 4 times per week, so there is a certain commitment needed.
Rest is also incredibly important, you will not benefit from all the miles you put in unless you give your body time to recover.
Kit
Having the right equipment is essential, especially trainers (shoes). Until you know what trainers work for you, don't buy off the internet. There is plenty of specialist running shops around that will analyze the way you run in order to suggest the perfect shoe.
The same goes with clothing… Running a marathon is tough enough without having to deal with a jogger's nipple!
Don't save your best kit for the day of the marathon, it's important to train in it and wash it before you go any distance in it.
Advice
Talk to as many people as possible that have completed the distance. There are plenty of running bores that would be happy to offer a few nuggets. Everybody has a different experience, but the more you can mentally prepare yourself through knowledge, the better.
There are also plenty of great running forums where you will certainly find experienced and first-timers that are willing to offer advice
Wrap-Up
So back to the original question… With determination and willpower, anyone can complete a marathon. 🙂
Latest posts by Gyles Abott
(see all)
Disclosure: In the spirit of full disclosure, DIYactive.com may be compensated in exchange for featured placement of certain reviews or your clicking on links posted on this website.