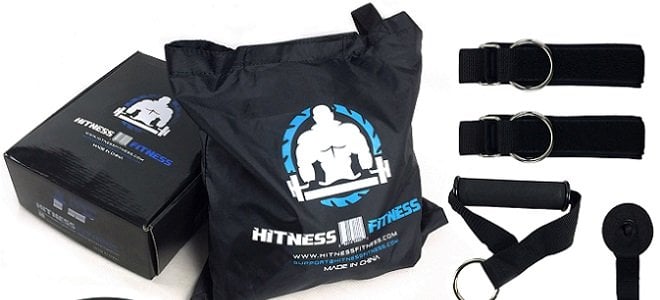 Your DIY Gym
Many of us like to workout at home… DUH – that's what this site is all about!
It provides the flexibility and the convenience that makes it ideal, but who has the money to buy hundreds of dollars of equipment? When it comes to increasing the difficulty of your workout, resistance bands are one of the most economically feasible ways to do so, and they can provide a killer workout! This week we reviewed Hitness Fitness's DIY gym – it's a 5 resistance band combination.

Here's the Start of Your DIY Gym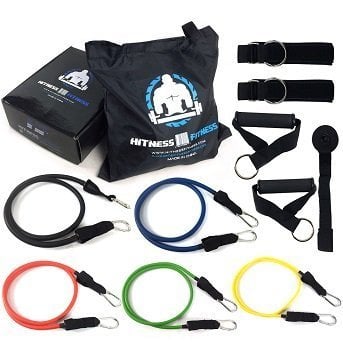 "Take your fitness to the next level now!"
What: Resistance Bands
By: Hitness Fitness
Overview: Need a way to take your resistance training to the next level without breaking the bank buying a ton of dumbbells? These stack-able resistance bands are perfect! Take your gym anywhere!
Ease of Use: 4.75/5
Practicality: 5/5
Storage: 5/5
Effectiveness: 5/5
Overall: 4.93 / 5
Overview
Resistance bands are one of the best tools you can have at your disposal when it comes to working out at home. This is because, with stack-able bands like these, you have a wide range of resistances (from 3 to almost 50 pounds) to help improve your strength and definition in a small, easily store-able package!
Plus, unlike a 25-pound dumbbell which you can't take with you when traveling (normally), resistance bands offer the easiest way to take your gym with you!
To me when it comes to resistance bands it's all about durability and ease of use! Who wants to deal with resistance bands that crack and break after the first 3 months… a waste of money, right?
Or who wants to deal with interchangeable bands when the clasps take the Hulk to open? They need to be durable and functional.
Ease of Use
First off, these resistance bands are seriously heavy-duty – meaning hopefully they won't wear out and it adds to the overall safety of the bands! Plus, they are super easy to snap together and use as a singular band or as one stackable piece of equipment. The handles/grips are sturdy and comfortable as well.
Lastly, the easy-to-use door anchor means you can take this from a stand-alone piece of equipment and use it as your own portable cable machine – increasing the number of exercises you can do exponentially!
It can be a little funky to get it mounted properly (as they all are) but that is some serious nit-picking (check out the video below)!
Use/Storage
Simply put, they are easy to use – if you know what exercises you are doing and how to perform them with proper form. For that, you can use any of these exercises. It's quite easy to snap the bands together. In this combo package you get:
Yellow (3 lbs.)
Green (5 lbs.)
Red (8 lbs.)
Blue (13 lbs.)
Black (19 lbs.)
Two handles
Door anchor
Wrist straps
Carrying bag
So really you have the ability to use a very light band of 3 pounds or stack them all the way up to having a piece of resistance equipment that totals almost 50 pounds… that's a huge deal from such a little package.
That's what makes this so great – you have the ability to have such a wide range of resistance equipment while being able to store it all in one convenient bag! This means you can put your entire at-home, DIY gym inside your closet without any trouble whatsoever. It makes working out and storage easy!
Wrap-Up: Verdict
With the durability, the varying stack-able resistance bands, the door anchor, the handy carrying bag…etc. this is really a great set to get started getting results at home.
For around $50 you can get started toning and building muscle with your own DIY gym!
As I've already said, these resistance bands give you the proper tools to get results at home – the rest is up to you! A simple 6-8 exercise full-body workout 3-4 times a week is a great way to get started!
With proper form, the right workout routine, and this DIY gym you will be well on your way to a healthier you! We give this set a 4.93/5!
Get your complete DIY gym: HERE

Latest posts by Josh Anderson
(see all)
Disclosure: In the spirit of full disclosure, DIYactive.com may be compensated in exchange for featured placement of certain reviews or your clicking on links posted on this website.