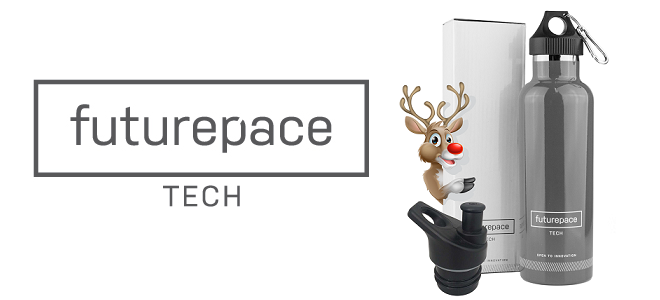 Looking for the Best Water Bottle For You?
One of our biggest pet peeves here at the DIY Nation, aside from getting plenty of sleep and staying active, is staying properly hydrated.
From keeping you energized to helping your body run smoothly, staying hydrated is key!
This can be hard to do! That's where the Futurepace Tech Stainless Steel 25oz Water Bottle comes into play. We put it to the test to see if it can keep your drinks nice and cold but also if it can keep your coffee warm as well (yup, we are addicted to coffee)! Find out if this is the best water bottle out there:

Stainless Steel Water Bottle
Futurepace Tech
"Ditch the plastic water bottles and start using the best water bottle out there!"
Overview: Looking for a better water bottle? This could be it! From the great design to the insulation capabilities, check out the Futurepace Tech water bottle!
Design: 4.90/5
Durability: 4.80/5
Insulation: 5/5
Leakage: 5/5
Overall: 4.92/5
Overview:
There are so many water bottles out there that they can boggle the mind. Do you want a small or a large one? Do you want a plastic one? Maybe you are worried about the BPAs associated with plastic water bottles? The list of questions is never-ending. So what makes the Futurepace Tech water bottle a good choice for you?
First of all, it can hold 25 ounces of your favorite drink! This means that you have to take fewer breaks at work to hike over to the water cooler where you will more than likely get pinned by Barbara who has to tell you about the delightful fruit cake she made over the weekend, "Did you know it takes 12 kinds of fruit?"
From BPA-free stainless steel to a full 25 ounces, we will break down a few more reasons this might be the best water bottle for you. Here's what we will discuss:
Design/Leakage
Durability
Insulation
Design/Leakage
The design of the bottle is sleek and simple. The cap and the sports cap (as well as the lining) are all BPA-free and leakproof! With both caps, you, are able to put on a carabiner which makes it easier for you to carry around. One of the great things we liked about the size of the bottle, was that the mouth was large enough for us to easily put ice in.
How many times have to you tried to cram piece after piece of ice down your water bottle if you don't have time to cool it? No More!
We will get to the insulation capabilities of the bottle below (whether it can keep things hot or cold) but one great thing was that no matter how hot or how cold the beverage was inside the bottle, the outside remained around ambient temperature. Basically, this means that you won't burn the crap out of your hand if you decide to put coffee in your bottle.
Durability
While we've only had the product for a few weeks it has held up well and trust me, we aren't the most gentle on our gear. From road trips to hotel stays, we took this water bottle with us and it hasn't displayed any dings or cuts. It took what we threw at it!
Insulation
We did a little experiment – these are right up our alley. Futurepace Tech claims that this water bottle can keep drinks cold for 24 hours or hot for 8 hours. Is this true? First, we tested whether our drinks would remain cold. We basically filled up the bottle with ice and then water (a full 25 ounces), put on the cap, and set it on our counter for 24 hours. At an ambient temperature of 73-75 degrees, 24 hours later the water temperature was only 43 degrees!
Next, because we are coffee addicts, we filled the bottle with 10 ounces of hot coffee (~160 degrees starting temperature), put on the cap, set it on the counter, and came back 8 hours later. At an ambient temperature of 73-75 degrees, after 8 hours the coffee was at a temperature of 112 degrees! These results were really impressive to us and while they weren't 100% accurate due to our minimal equipment at hand and guesstimation, they still show this bottle is one heck of an insulator! #futurepacetech
Wrap-Up: Verdict
So is this the best water bottle for you?
From being BPA free to being functionally sound to being one great insulator, we know this is the best water bottle we've tried!
This could make for a great holiday gift or just be a great way to ensure you are drinking enough water throughout the day. Overall we give them a 4.92/5!
Want to get your own? Check it out HERE!

Latest posts by Josh Anderson
(see all)
Disclosure: In the spirit of full disclosure, DIYactive.com may be compensated in exchange for featured placement of certain reviews or your clicking on links posted on this website.