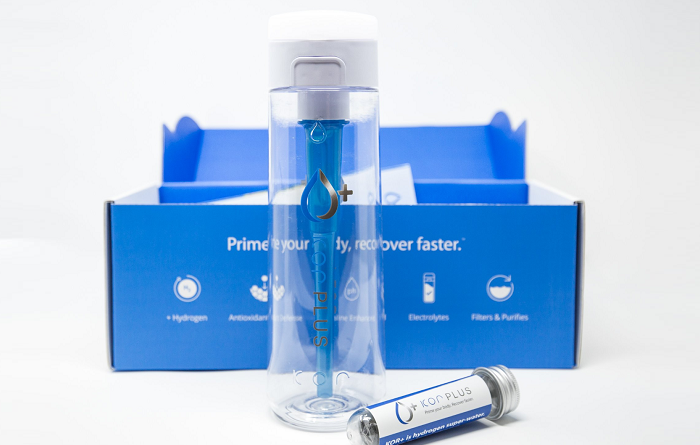 Antioxidant Water, Anywhere
The folks at KOR+ sent us one of their KOR+ water bottles for free to test out and give our honest review. The KOR+ water bottle is all about helping you recharge by literally charging your water – even regular tap water – via molecular hydrogen. What? Exactly, keep reading about this superfood in a bottle.
What Are Antioxidants?
Antioxidants are a huge deal. A good discussion on antioxidants can be found in the previous DIY Active article:
"Antioxidants are important since they bond with molecules called free radicals. Our bodies are under constant attack as these free radicals react with and damage cell structures like DNA and proteins. The higher your daily antioxidant intake the fewer free radicals are coursing through your body.
This means you will have more protection against cell aging and damage since oxidative stress is part of that mechanism…
Antioxidants not only help fight oxidative stress but also help in the prevention of various diseases."
By removing free radicals, antioxidants set you up for better health!
Antioxidant Water
As you may know, one of the best ways to consume antioxidants is in the beverages you consume. From coffee to juice to tea, this is a simple and effective way to consume antioxidants and improve your health.
At times people are a bit confused between alkaline, antioxidants, and RO water. These are certainly different in terms of PH levels, which are different. RO waters are a little acidic since the PH levels are while the alkaline waters have a little higher PH value up to 9.
While we are discussing antioxidant water in this article, alkaline waters are self-explanatory. You can read more about how reverse osmosis water helps at ro-guide.com.
So KOR+ picked up that baton with, "A filtration system that simultaneously purifies and supercharges your water using natural ingredients and methods."
One of the best ways to combat oxidative stress is via antioxidants in molecular water. That sounds like a weird science fiction idea but it is real and really works.
The water you drink from your KOR+ bottle is molecular water which is essentially water infused with molecular hydrogen (H2). H2 is a super powerful antioxidant that neutralizes free radicals. See-ya!
This isn't just made-up mumbo-jumbo. There have been over 600 studies on the healthy capabilities of molecular water. So every time you take a drink from your KOR+ water bottle, your H2 infused water helps make you healthier by neutralizing those pesky free radicals!
The KOR Plus Water Bottle Setup
The KOR+ water bottle has a simple, elegant setup that works and is fashionable. This dishwasher-safe water bottle (place in the top rack only) is easy to set up.
The filters, which you change out each month, come in a tube that you have to soak overnight using your tap water. After that, you place the filter in the blue center column of the water bottle, screw on the top, pop the lid and you are ready to go!
I would like to go all in-depth on how the system works but that's the beauty of it, it's simplistic and easy to set up. It's perfect for anyone and happens in a breeze.
Monthly Filters
The molecular water-creating filters in the KOR+ water bottle obviously don't last forever. They eventually need to be replaced to get all of the refreshing benefits of antioxidant water. You're probably thinking that you don't have time to remember to order the filters every month, but you don't have to.
They are automatically shipped right to your door for a monthly fee. It takes all the guesswork and headaches out of it and lets you simply enjoy your water!
Wrap-Up
After several weeks of using my KOR+ water bottle, can I say that my world is changed and I went from sluggish to energetic overnight?
No, but I do know the science behind it is sound, and using it over time can create a healthy cumulative effect that makes you healthier overall!
That gives me peace of mind. Plus, the elegant beautiful design makes it that much better.
Look, we all are busy. We all want to be healthier. We all crave convenience. Why not simply drink water on your way to better health?
That's about as simple as it gets!
Get your KOR+ water bottle by visiting here.

Latest posts by Josh Anderson
(see all)
Disclosure: In the spirit of full disclosure, DIYactive.com may be compensated in exchange for featured placement of certain reviews or your clicking on links posted on this website.