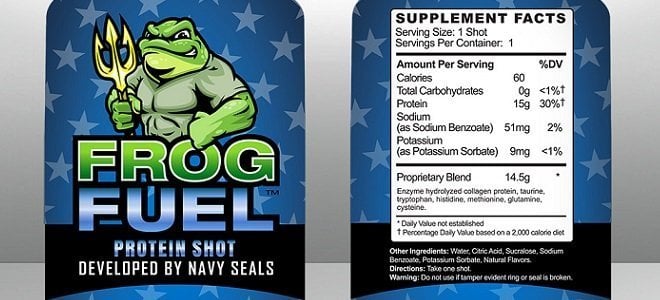 Frog Performance: Get Your Frog Fuel On
Next up in our product review series is Frog Performance protein called Frog Fuel: "Fueling Outperformance". The guys at Frog Performance were kind enough to send me a bunch of samples so I could really get a grasp on their product. Frog Performance offers 4 types of hydrolyzed collagen protein that come in 1.2 oz shots that are great for before, during, or after a workout.

Our Take On Frog Performance
Overview:
I was a little skeptical when it came to collagen protein. I've always been a whey protein user and understood that collagen protein in its natural state is not a complete protein because it lacks some essential amino acids that are essential for muscle repair and growth.
To make the collagen digestible at the cellular level it is hydrolyzed by an enzymatic process that makes it easier to absorb. In fact, it has a rapid, near 100% absorption at the cellular level.
That's great, you are getting the goods and absorbing them rapidly but is what you are absorbing going to do anything for you? As I mentioned earlier it is an incomplete protein, to begin with.

To combat this, the guys at Frog Performance made sure to add all of the essential amino acids that were missing in order to make it a complete protein and therefore giving you everything you need to repair and grow muscles.
For instance, tryptophan is missing in collagen but a considerable amount is added (along with other amino acids) to complete the protein.
Likewise, one of the amino acids I look for in a protein is leucine because it is one of the biggest contributing factors in determining protein synthesis.
In fact, I look for a protein that contains 3-4 grams of leucine per serving. There is science behind this; a 2012 study published in the Journal of International Society of Sports Nutrition determined,
Consumption of 3–4 g of leucine is needed to promote maximum protein synthesis.
All products provided by Frog Performance falls within these boundaries containing either 3.3 or 3.5 grams of leucine per serving (product dependent). I definitely was skeptical of collagen protein but by making it a complete protein with enough leucine to induce protein synthesis (among other things) Frog Performance has changed my mind.
Frog Performance: Positives
The packaging looks amazing and Frog Fuel is incredibly convenient to take. Normally I would go out to my car after a lift and have to mix a protein shake, my car got pretty filthy from all the mixing.
The convenient protein shots from Frog Performance are perfect after a workout. All you have to do is tear off the top and slam it down. The cleanup is minimal. You can also mix the contents of the package with water if you want to consume it that way.
Next we get to the taste. Compared to other proteins I have taken, the taste of Frog Fuel is pretty great.
The citrus flavor is easy to take and easy to swallow, there is no "choking down" like many proteins. It's a great way to consume 10-15 grams of protein fast without the mess.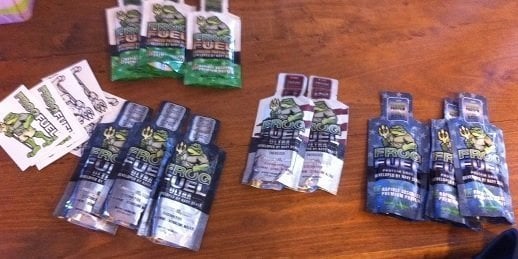 The added benefits of 80mg of caffeine (along with taurine and beta-alanine) in the Energized Frog Fuel can make this perfect to take before or during a workout. The caffeine will help you focus and give you energy while the protein will provide the needed amino acids to help power you through the workout.
Likewise, the Frog Fuel Ultra is great for after a workout because it not only gives you 10g of protein it also provides you with 10 grams of carbs to help you replenish protein and glucose lost during the workout and help you start repairing and building muscle right away.
Frog Performance: Negatives
The only negative thing I can find with the product is that it only provides you with 10-15 grams of protein (product-dependent). Don't get me wrong, this is great for before or during a workout, but for protein consumption, after the workout is over I would rather have 20-30 grams plus that same amount through my follow-up meal.
On the other hand, this is great for the average workout and 15 grams of protein in a super convenient fashion is an ideal way to provide your body with protein until you can get home and eat your post-workout meal.
Wrap-Up
The creators of this gluten-free product did a really good job in providing a large punch for such a small convenient package! Frog Fuel offers you a versatile way to consume your protein before or during a workout while giving you plenty of protein to start repairing your muscles after a workout!
Frog Performance products are top-shelf!
References
Stark M, Lukaszuk J, Prawitz A, Salacinski A (2012) Protein timing and its effects on muscular hypertrophy and strength in individuals engaged in weight-training. Journal of the International Society of Sports Nutrition 9: 54.

Latest posts by Josh Anderson
(see all)
Disclosure: In the spirit of full disclosure, DIYactive.com may be compensated in exchange for featured placement of certain reviews or your clicking on links posted on this website.