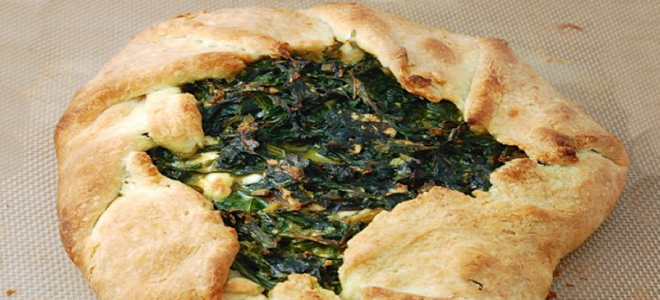 Chard Tart Recipe
Free form tarts are a lot easier to make than traditional pies and tarts [Editor's Note: I've had trouble with all the above but the recipe looks so good that I have to give it a try – DIY recipes, right?]. This spinach and chard tart uses those awesomely nutritious spring greens and some feta cheese to create a spanakopita-like flavor. Makes a killer spinach and chard tart.
Chard Tart Pastry Ingredients
1 cup flour
¼ cup fine cornmeal
1 teaspoon sugar
¼ teaspoon salt
9 tablespoons cold unsalted butter, cut into small pieces
¼ cup ice water
Filling Ingredients
1 bunch spinach, rinsed and drained, stems removed
1 bunch chard, rinsed and drained, stems removed
2 tablespoons olive oil
⅓ cup garlic scapes, chopped (or ¼ c. scallions)
½ teaspoon salt
¼ teaspoon pepper
1 clove garlic, minced
1 egg yolk
2 tablespoons parmesan cheese, grated
¼ cup feta cheese, crumbled
1 tablespoon fresh thyme leaves
Chard Tart Pastry Directions:
Place flour, cornmeal, sugar, and salt in food processor. Pulse to blend.
Add butter and pulse until the size of small peas. Sprinkle with the water and pulse until the pastry just becomes moistened.
Form dough into a disk shape and wrap in plastic. Chill at least 30 minutes.
Filling Directions:
Preheat oven to 400℉. Heat oil in a large pan. Thinly slice spinach and chard.
Place garlic scapes, salt, and pepper in pan and cook 3 minutes. Stir in garlic and sliced greens. Toss in oil until wilted and liquid evaporates, about 5 minutes.
Transfer greens to a bowl to cool. Stir in yolk, both cheeses, and thyme leaves.
On a lightly floured work surface, roll dough out to a 12-inch circle. Transfer to a parchment paper or silicone-lined baking sheet.
Spread greens onto dough leaving a 2-inch border. Fold dough over edges of tart filling. Bake 40 minutes, until golden.
Looking for a certain recipe? Special meal? Anything else you can think of?
Let us know and we will make it happen! We love giving you exactly what you want so drop us a line today!
Give this recipe a try and let us know below.

Latest posts by Jennifer Cohen Katz
(see all)