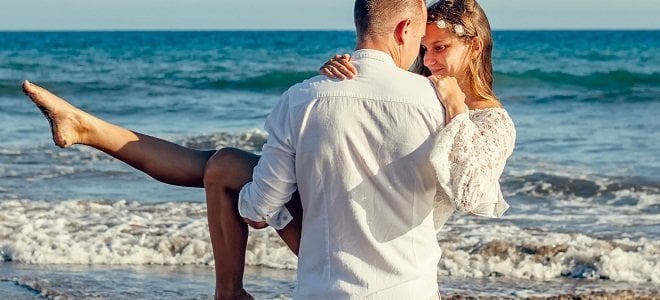 Get in Shape for Your Wedding Day
As the big day approaches, one thing you might overlook is how are you going to get in shape for your wedding day? These are some can't miss tips to help you do just that!

Your wedding day around the corner?
For many of us, we have been imagining a glorious affair filled with the perfect combination of flowers, candlelight, and romance since we were young girls still playing with dolls. Now, as adults, suddenly we are aware of all the work and planning that goes into arranging this special occasion.
Unfortunately, it's far too easy to get lost in cake tastings and dress fittings.
During the stressful months leading up to a wedding, many of us overlook our health while we become preoccupied with all the details that accompany a trip to the altar.
With a little planning and extra effort, you can feel better while tightening and toning those flabby zones so you look your best when you say "I do". After all, you don't want to wake up less than two weeks before your nuptials only to realize your dress doesn't fit just right or you are lacking the energy to enjoy the event.
To help you on your fitness journey, listed below are some actionable tips to help you get in perfect shape for your wedding, and surprisingly, some don't even require a single visit to the gym!
Strategies to Getting Fit Before Your Wedding
Reduce your daily caloric intake by 300 to 500 calories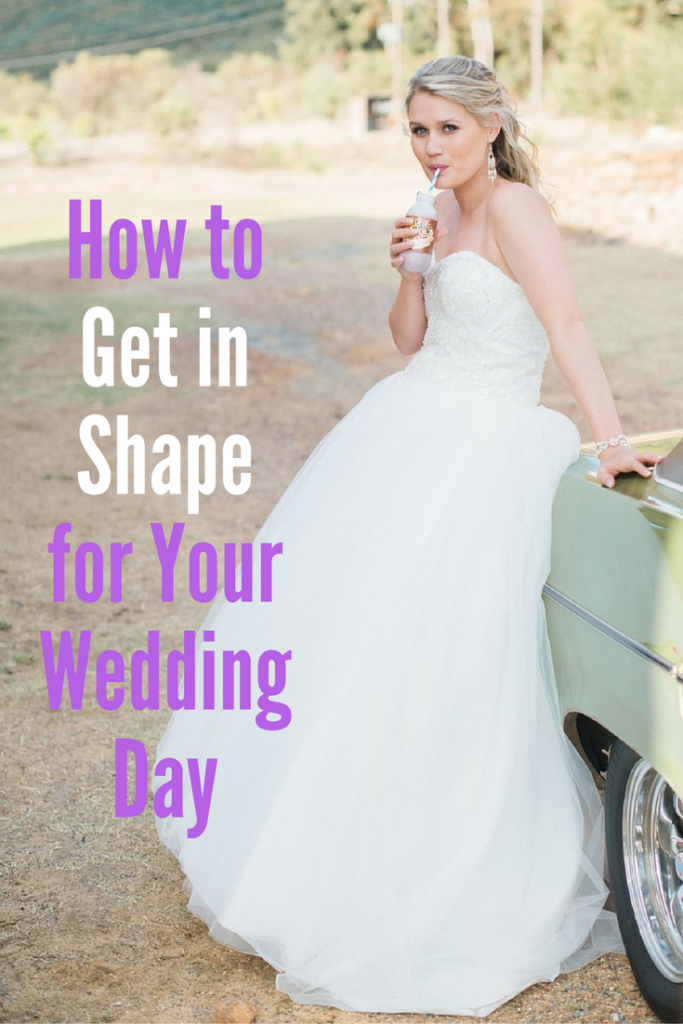 At first glance, this may appear to be a monumental feat. However, it can be as simple as skipping that Grande latte every morning or cutting back on desserts. If you normally eat three slices of pizza, indulge in two. Cutting calories is feasible and over time you will be able to see results in your waistline.
Eat an apple a day
Besides keeping a doctor away, apples are said to offer the body an energy boost equivalent to that of one cup of coffee. You will also be consuming vitamins, minerals, and fiber that help your body function better. As an added benefit, apples can fuel our body with a little extra energy and help us control our blood sugar much longer than a cup of coffee or glass of soda.
Drink a glass, or two, of water
Although the experts are debating if we still need eight glasses a day, water is an essential element needed to keep a person healthy and hydrated during exercise. By drinking enough water throughout the day, we are helping our skin be more supple, beat dehydration, control calories, and help energize our body's muscles. Water actually makes it easier for us to work out, stay healthy, and look better in the process.
Count your steps
One of the best ways to get in shape before the big day is to walk more. It doesn't matter whether you park at the end of the parking lot, take the stairs, or play Pokémon GO. You want to get moving and keep up the momentum. Many brides and fitness gurus are enjoying the fitness trackers that count your total steps or keep your body's stats to help them monitor their progress.
Most people recommend getting in at least 10,000 steps, but this magic number is just a guideline. Strive to walk a little more every day to help you get in better shape.
Roll out the hula hoops
Revisit this favorite childhood pastime for a fun way to include cardio into your routines and tone up those abdominal and oblique muscles. Besides the traditional belly moves, you can use hula hoops to target your arms, neck, and legs. Just one minute of hula hooping can burn up to 7 calories!
Include weight training
Focus on high reps with low weights to build strength and stamina. This will allow your body to tone, burn calories, and build muscle while avoiding "bulking up" and looking like an angry Bruce Banner, without the green hue, stuffed into a white dress.
Go dancing
Whether you like to shimmy alone in your living room or to prepare for your reception you signed up for couples' ballroom dance lessons, this activity is a great way to get into shape for your wedding day. Dancing can help you strengthen your core, burn calories, and improve your coordination. Turn up the radio and channel your inner Misty Copeland to pirouette or tap your way to a healthier you.
Find your center with Yoga
Yoga can offer any bride-to-be multiple benefits. This deep breathing exercise can help reduce stress, fight off fatigue, enhance posture, and trim those pesky back rolls, muffin tops, and jiggly underarms in the process. So, roll out that mat and were your favorite Yoga pants for a way to help calm wedding day jitters and improve your health in the process.
So go ahead and incorporate beginner Yoga poses like the cat-cow, cobra, child's pose, and more into your workout routines!
Catch some zzz's
Yes, sleep is important to getting in shape. At first glance, it does appear counterproductive to lay down and sleep when you are focusing on improving your body or health. However, experts and researchers are finding a strong correlation between sleep deprivation and poor health habits.
Approximately, 35 percent of us are not getting an adequate 7 hours of sleep which affects our metabolism, ability to curb cravings, and can hinder our efforts in the gym. Make sure to allow yourself a good night's rest and allot a few extra hours of guilt-free beauty sleep.
Wrap-Up
If wedding bells will be ringing in your near future, how are you planning to get in shape for your wedding day?

Latest posts by Cassie Brewer
(see all)
Disclosure: In the spirit of full disclosure, DIYactive.com may be compensated in exchange for featured placement of certain reviews or your clicking on links posted on this website.