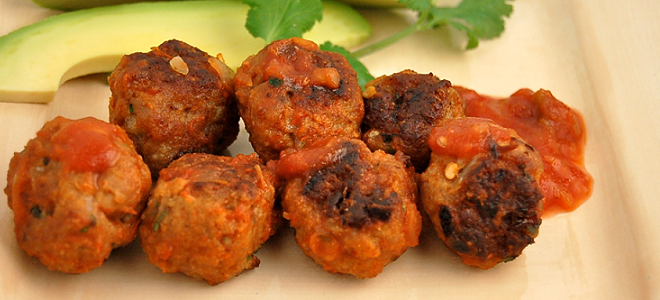 Mexican Turkey Meatballs Recipe
Give this hearty, protein-rich recipe a try that is full of cilantro and goodness! Cilantro is a source of iron, magnesium, and manganese. This low cal herb also contains phytochemicals that are powerful antioxidants, which help the body fight disease and aging. This healthy recipe makes 4 servings of turkey meatballs.
Mexican Turkey Meatballs Ingredients
1 lb. ground turkey
1 cup bread crumbs
1 egg
1 small onion, diced
¼ cup fresh cilantro, chopped
1 teaspoon cumin
½ teaspoon paprika
1 teaspoon salt
2 tablespoons olive oil
1 cup salsa
Mexican Turkey Meatballs Directions
Combine all ingredients except the oil and salsa. Form the mixture into 1-inch balls.
Heat the oil in a wide sauté pan. Add the meatballs and brown them on all sides until cooked through 8 to 10 minutes. You may have to work with 2 batches.
If you have put a batch of meatballs to the side, place all of them back in the pan. Add the salsa. Cook until it coats the turkey meatballs, about 1 minute.
Looking for a certain recipe? Special meal? Anything else you can think of?
Let us know and we will make it happen! We love giving you exactly what you want so drop us a line today!
Give this recipe a try and let us know below.

Latest posts by Jennifer Cohen Katz
(see all)