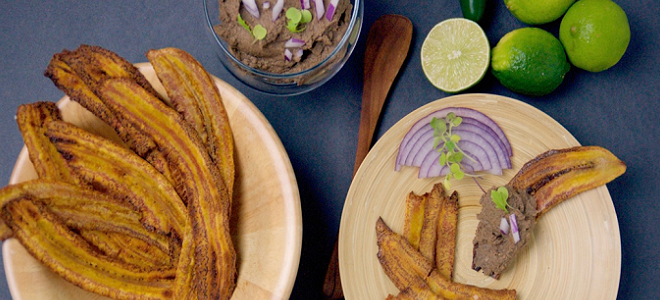 Black Bean Dip Recipe
Plantains plus an incredible black bean dip makes for a healthy, fiber-rich snack that will not only fill you up but energize you! This chip and dip combination is a great source of potassium with lots of heart-healthy soluble fiber. This plantain and black bean dip combo is perfect for a tailgate or watching the game at home! Give it a try!
Plantain Chips Ingredients
3 plantains
¼ cup coconut oil
sea salt
Black Bean Dip Ingredients
2 cans black beans, drained and rinsed
¼ cup red onion, chopped
¼ cup sun-dried tomatoes soaked 10 minutes
1 tablespoon jalapeño pepper, minced
2 garlic cloves
2 tablespoons chopped fresh cilantro
1 tablespoon lime juice
1 tablespoon apple cider vinegar
1 teaspoon honey
1 teaspoon cumin
¼ teaspoon cayenne pepper
½ teaspoon sea salt
¼ cup pumpkin seeds
Plantain Chips Directions
Preheat oven to 350℉.
Peel the plantains and slice them thinly into rounds, diagonal oblongs, or full-length slices.
Toss or brush with oil and arrange in a single layer on baking sheets lined with parchment paper. Sprinkle with salt.
Bake until lightly browned and crisp, 20 – 30 minutes depending on shape and thickness.
Cool for 10 minutes on paper towels.
Black Bean Dip Directions
Place all ingredients in a high-speed blender or food processor. Blend until smooth.
Garnish with additional cilantro and chopped red onion
Looking for a certain recipe? Special meal? Anything else you can think of?
Let us know and we will make it happen! We love giving you exactly what you want so drop us a line today!
Give this recipe a try and let us know below.

Latest posts by Jennifer Cohen Katz
(see all)