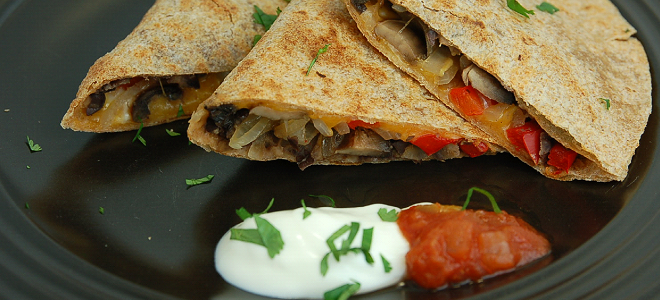 Mushroom Black Bean Quesadilla Recipe
How seriously awesome do these look? So if you are in need of a quick dinner then look no further than this quick, healthy, amazing recipe! You won't believe how fast these juicy, cheesy quesadillas come together. You'll be left with plenty of time to create a salad to serve on the side.
Mushroom Black Bean Quesadilla Ingredients
2 tablespoons olive oil
4 medium Portobello mushroom caps, sliced
½ medium red pepper, thinly sliced
1 small onion, thinly sliced
1 15-ounce can black beans, rinsed and drained
½ teaspoon cumin
¼ teaspoon chili powder
non-stick pan spray
4 8-inch whole-wheat tortillas
1 cup reduced-fat Mexican blend cheese
Directions
Heat the olive oil in a large pan. Add mushroom slices, peppers, and onions. Cook 7 minutes until softened. Set aside.
Pour ¼ cup water into the same pan. Add black beans, cumin, and chili powder. Stir together and mash about ½ the beans with a fork. Set aside.
Wipeout pan. Coat lightly with non-stick pan spray. Place a tortilla in the pan. Add ¼ of the vegetables and beans. Sprinkle with ¼ cup of cheese. Heat 2 minutes, fold quesadilla and flip over for 2 minutes.
Repeat with the remaining tortillas.
Looking for a certain meal? A tasty snack food? Or just more of the same awesomeness? Let us know and we can make it happen!
Give this recipe a try and let us know below. Until then, eat up, be full, and be healthy!

Latest posts by Jennifer Cohen Katz
(see all)