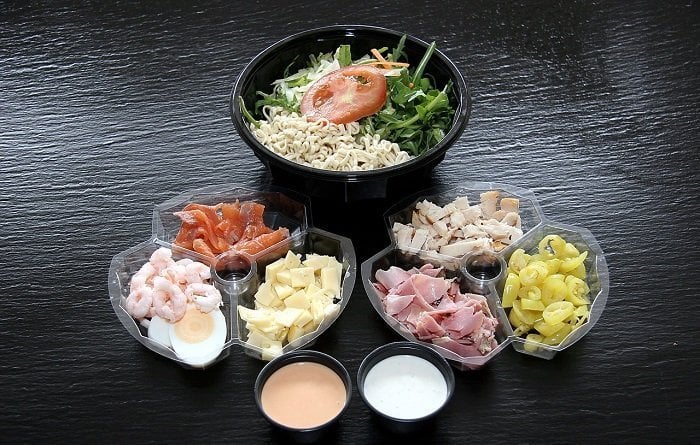 High-Protein Lunches For the Office
Leading a healthy life can be quite a challenge. Whether you're looking to gain muscle, shed some fat, or simply manage your current weight with the help of nutritious foods, meal planning makes up for a significant part of your lifestyle.
Need high-protein lunches for work?
When you need to pair that with a massive workload and a serious gym routine, it can be time-consuming to prepare meals that suit you best.
However, when your key focus is to amp up your protein intake and steer clear of junk food – taking your lunch box to work is a must.
The meal-prepping process doesn't have to be too complex or time-consuming, all you need is a game plan. Here to cover your high-protein lunches for every day of the workweek are several ideas you can plan for and prepare for your work lunches.
That way, you'll stay on the right track with your fitness goals and not lose a single gram of precious protein in your diet, even on the go!
1. Pair up the chicken with quinoa
Did you know that this humble grain packs quite a protein punch? In fact, you'll find that quinoa has approximately 8g of protein on a 100g portion, which makes it an excellent addition to your lean chicken lunch.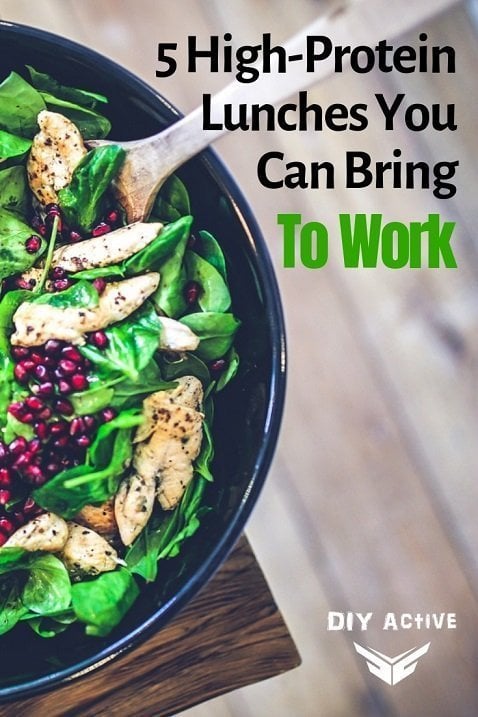 Like rice, quinoa has a mild, neutral taste, and can be mixed with a number of different spices that will add some excitement to your lunch. The beauty of it is that it can be mixed well with other meats, too, such as turkey, pork, as well as salmon, and trout.
If you like to mix it up when it comes to flavors, you can add apple slices or some pomegranate to this blend, and make it more exciting for your taste buds.
When prepared separately, quinoa and chicken can last for a couple of days, so you'll also save time, and you can add a myriad of sauces for each day of your week!
2. Minced meat and quinoa-stuffed peppers
Didn't we tell you that you can add quinoa to practically any meal out there?
This is another great recipe to test that! If you like stuffed bell peppers generally, then replacing your standard white rice with quinoa can give you a perfect protein boost, and keep you full for hours on end.
The beauty of stuffed bell peppers is in their versatility, too. You can use minced meat as your basis, but you can also add veggies of all sorts to add to the stuffing.
Meat chunks can also work if you give sear them first, and each pepper can have a different stuffing to keep your weekly meal plan more interesting.
3. Mix things up with a protein shake
Wednesdays can be awful. It's smack dab in the middle of the week, you still have three days of work to go through, and your home-cooked meals are possibly running out.
It might be a good day to add meal replacement shakes to your schedule, with 30g of protein per shake to keep you full and brimming with energy for a long time.
This is an excellent way to keep your calories in check, too, and to switch between flavors to avoid getting bored.
A balance of macronutrients and an ample dose of micronutrients is a key to a perfectly healthy diet plan, so resorting to these practical and high-quality meal replacements can indeed serve your goals and help you clear your schedule!
4. Pack a protein snack
Together with your protein-loaded shake and your delicious lunch boxes, long hours at the office might require an extra energy boost for your body and mind. Enter: protein-packed snacks!
Store-bought or homemade, it's up to you, but protein treats are a great way to elevate your energy, stay full for longer, and make sure your belly isn't rumbling towards the end of that never-ending meeting.
For instance, banana and oatmeal-based cookies infused with peanuts, almonds, and other protein-rich nom-norms can push you through the most grueling of workouts, so why not a few hours at work?
Savory snacks are also an option, so roasted chickpeas can be your go-to work snack to avoid binging on candy and junk food!
5. Chicken salad wraps
Chicken is a gym junkie go-to source of lean protein, and perfectly simple meat to prepare for any day of the week. One of the most delicious ways to enjoy your work lunch is to wrap up all of your favorite protein sources into a single – you've guessed it – wrap.
Call it a burrito if you want to make it more fun, but your goal should be to use as many protein-rich ingredients as you possibly can.
Roasted veggies, including kale, broccoli, pepper, onions, and mushrooms are a great addition to your chicken wrap. Slather something creamy such as hummus, also loaded with protein, and you have yourself an ideal work lunch.
Wrap-Up
There's no need to start a war with your meal plan or stop enjoying your work lunch.
Use these simple, high-protein lunches to turn your lunches into feasts, and your gym goals will stay grateful for the ample dose of muscle-building macros!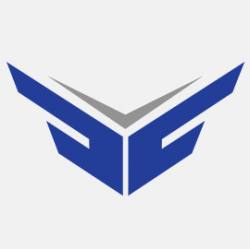 Latest posts by Michelle Laurey
(see all)
Disclosure: In the spirit of full disclosure, DIYactive.com may be compensated in exchange for featured placement of certain reviews or your clicking on links posted on this website.