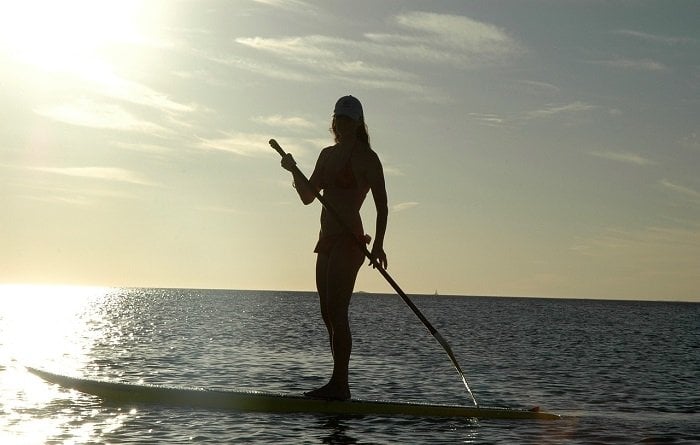 Versatile Compression Shorts
One of the most versatile gears a person with an active lifestyle can wear is that of compression shorts. Many people tend to think that compression shorts are only for the gym or playing field sports. The fact is that they can be much more versatile than that and can be utilized in a variety of other ways and activities.

Taking your fitness outside with compression shorts
While some are designed with extra padding on quads and glutes, there are some designed to perform well both in water and on land for the more versatile athlete, such as Original Watermen's compression shorts.
Below we cover a few various, popular aquatic activities in which these compression shorts can greatly come in handy.
Although we're only talking about the water here, their moisture-resistant feature helps them perform incredibly in all sorts of active outdoor and indoor environments, especially when you're sweaty, from hiking to biking and even yoga.
Triathlons & Swimruns
Training for a triathlon is one of the most grueling sports an athlete can do, regardless of at what level you participate. Comfort in these endurance races is paramount since wearing a suit too tight or too loose will end up hurting performance.
These aquatic compression shorts do not add drag when compared to a traditional "speedo" brief or jammer, and they still allow for dynamic movement while offering superior durability and coverage so you can wear them during all 3 stages.
Not to mention, compression shorts help boost your stamina not only by minimizing drag but also by increasing blood flow.
The materials in amphibious performance compression shorts should also be moisture-resistant so they won't absorb lots of water to weigh you down the rest of the race, and of course quick drying.
Going into a bike ride as dry as possible is an advantage generally speaking.
You do not want water running down your legs, possibly causing slipping on the pedals or having to do the run in waterlogged socks.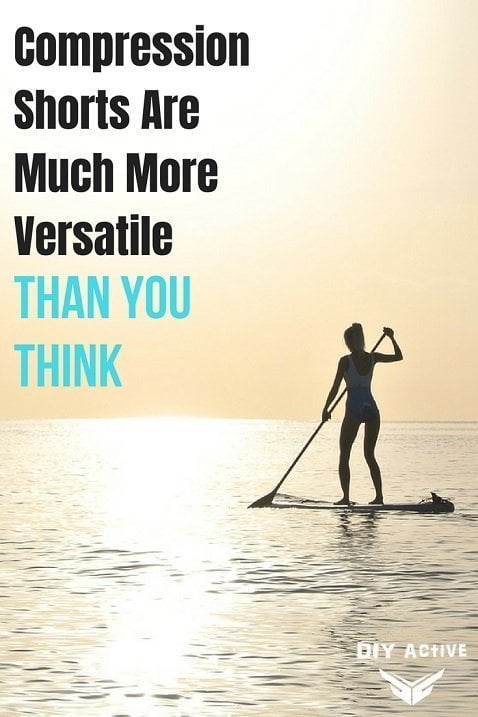 Even before race day the durable and low-water absorbency traits make these compression shorts a great training option that affords low drag swim workouts – whether in the pool, lake, or ocean – as well as seamless transitions from water to land, and still hold their tight shape through it all.
Surfing, Body Surfing, and Body Boarding
In beach communities, these compression shorts are also commonly referred to as board short liners.
All the same benefits still apply – such as compression, protection, and quick-drying – but it's used as a base layer. This immensely helps prevent chaffing and rashes that often happen from traditional board shorts.
This part can't be emphasized enough. You know this is no joke if you've ever gone out awhile in the surf (or even hung at the pool or beach for a long time) and later notice you're walking funny because you're a bit tender down south.
It's similar to how a rashguard works under a wetsuit; the Watermen compression shorts are indeed like a rashguard for your lower half apparel.
They also really come in handy on those spring and fall days (or northern summers!) when it's not cold enough for a wetsuit but you still want a little extra buffer from the air or wind for warmth.
Spearfishing & Scuba Diving
Spearfishing is an amazing activity as one can admire the wildlife and possibly catch dinner at the same time.
One challenge besides accuracy is it can be incredibly tiring if you are wearing board shorts due to the immense amount of drag. If your spear shot does not kill a large fish then you want to get to the surface right away.
This can be difficult on its own, so you want the least resistance possible.
Whether spearfishing or scuba diving you still want a little protection to avoid cuts and gashes, so wearing some snag- and abrasion-resistant compression shorts help you avoid getting caught on a reef or an object in a tight space.
If you decide to dive with a wetsuit for either protection or warmth, as mentioned above a base layer underneath is still a good added comfort to have.
Paddle Boarding & Kayaking
Although paddleboarding is usually more of leisure activity, don't be fooled as it can give a great upper body workout similar to kayaking.
The benefits are like those described above for wearing baselayer compression shorts, whether you're paddling or kayaking in fresh or saltwater – they're lightweight, prevent chaffing, and provide some extra warmth.
Plus, the quick-drying feature is extra important while paddling or kayaking so when you do "dive" in the water, you won't stay soaking wet for long.
Wrap-Up
It doesn't stop there; the options are endless! Compression shorts can be suited to a myriad of both lands as well as aquatic activities. Would you like to enjoy your sports and hobbies more and longer?
Whether you're in peak training for a specific goal, cross-training in the off-season, or even just doing a hobby for fun, look into wearing Watermen compression shorts.
They will help you perform higher, endure longer and feel better. Earn Your Salt!