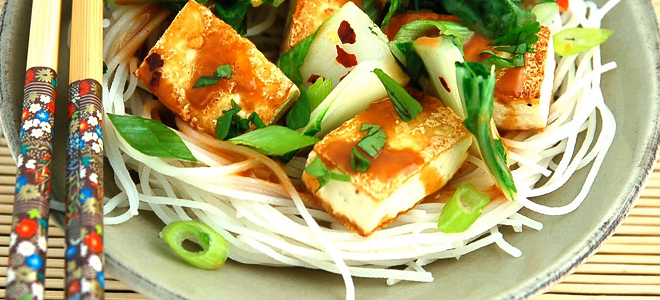 Thai Rice Noodles Recipe
If you are avoiding gluten you'll want to include this rice noodle dish in your meal rotation. On top of that, the always delicious bok choy is full of vitamins A and C providing you with a powerful punch of vitamins and minerals. So go ahead and spice up your diet this week with this wonderful little dish that is sure to please! This Thai Rice Noodles recipe makes 4 servings.
Thai Rice Noodles Ingredients
7 ounces rice noodles
2 tablespoons canola oil, divided
14 ounces extra-firm tofu, cut into 1-inch pieces
1 small head bok choy, chopped
¾ cup Asian peanut sauce
2 tablespoons soy sauce
½ teaspoon red pepper flakes
4 green onions, thinly sliced
¼ cup fresh cilantro, chopped
Directions
Prepare noodles according to package directions. Drain and set aside.
Heat 1 tablespoon of the oil in a large non-stick pan. Sauté tofu 5 minutes on each side until browned. Set aside.
Add remaining 1 tablespoon of oil to pan. When hot, add bok choy and cook for 5 minutes, until bright green and beginning to soften. Add noodles, tofu, peanut sauce, soy sauce, red pepper flakes, green onions, and cilantro to the pan. Toss to combine ingredients.
You can also add your own sauces or peppers to spice it up even more – have fun with it and get creative.
Going to try it out? Let us know how you like it in the comment section below. Eat up and be healthy!

Latest posts by Jennifer Cohen Katz
(see all)